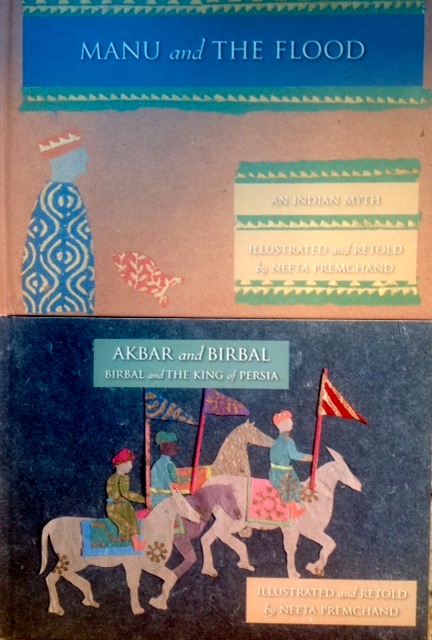 posted on 07 Aug 2020
Manu and The Flood and Akbar and Birbal illustrated and retold by Neeta Premchand
Published in Mumbai in 2015, these two retellings of traditional Indian tales are, on the face of it, very simple little stories told in very few words. In truth, prose is not the issue here but illustration – and in particular, the way the illustration has been done and the way it has then been printed.
Author and illustrator, Neeta Premchand has a fascination with the ancient art of papermaking. Premchand was born in India where she went to school and college but spent 25 years living and working in London, Hamburg and Zurich. Her fascination with the art of papermaking led her to publish 'Off the deckle edge: A paper-making journey through India' in which she follows in the footsteps of the American paper enthusiast Dard Hunter, who broke new ground in his studies of the art of papermaking in India, China, Japan and Europe.
 It would seem that hobby and interest turned into a mission of sorts and Premchand's next step was to establish the Bombay Paperie in 2001 to create and awareness of the versatility of hand-made paper.
Both of these books benefit for their illustration and production from Premchand's traditional papermaking and printing philosophy and readers are made aware of this by the following statement at the end:
"The original artwork for this book was done on a very special handmade paper. Following a 17th century tradition, it is made entirely by hand using waste cotton fibres. The paper, made near Daulatabad in India, was famous for its thinness and its strength. The Mughal Emperor Jehangir, father of Shah Jehan who built the Taj Mahal, had issued an edict that all paper used at his court should come from this mill. It has been the dream of the Bombay Paperie to revive this ancient tradition. The paper is then printed on by hand in another dying tradition using hand carved blocks, providing work and sustenance to families that for generations have practiced this craft."
So this is a great story in its own right and, on the evidence of these two books, it's a process ideally suited to the illustration of children's books that will also be loved by adults.
I was also really delighted to discover that the books also come with a sample of the handmade paper from the Bombay Paperie which gives a short history of the papermaking process – which you can see pictured at the bottom of this review.
The illustrations on the paper which come from traditional, hand-carved wooden blocks are, I think inevitably, a bit uneven in terms of colour density but you have to be impressed by the complexity of the colour combinations. The patience and precision that must be demanded by this process of colour overlaid on colour is truly impressive and the illustrations that seem at first glance rather simple actually repay the reader spending time with them to appreciate the detail.
These two books were another example of the serendipity of searching the heaps of discarded and second hand books that you come across in charity and junk shops. This is where physical book hunting wins out over the internet every time – how would I ever have discovered all this wonderful information about paper and printing if I hadn't happened on them? The truth is that the internet can only give you what you know you're looking for but real book hunting can surprise you.
Terry Potter
August 2020
(Click on any image below to view them in a slide show format)