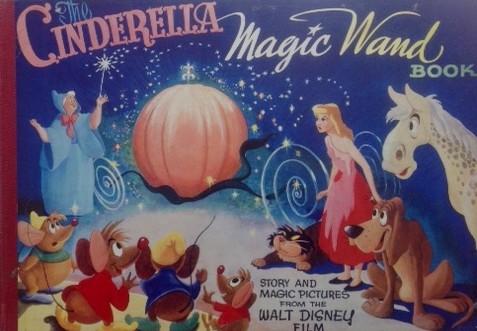 posted on 03 Jul 2020
The Cinderella Magic Wand Book
In 1856 the Stephenson Group was formed in Bradford, Yorkshire, "originally manufacturing soap based agents for the processing of wool, along with Furniture Wax and Polish products." And jolly good they probably were (are). Several amalgamations and restructurings later, they continue to flourish today.
So, what has this got to do with The Cinderella Magic Wand Book? Well back in 1950 Stephenson decided they needed a promotional tool to encourage mothers to buy soaps and polishes. So in some kind of collaboration with  children's publisher, Dean & Son and with Walt Disney this is the result. Buying one of Stephenson's estimable products came with 'lovely coloured stamps' which, when collected, could be traded in for this 3D special gift.
It's not very often that you are lucky enough to come across books like this in such pristine condition. But this one is extra special because it's not only in almost unread condition, everything is there. That means not only all the three dimensional colour plates, the 3D spectacles in their card wallet glued to the inside board but – and this is the fantastic bit – the letter sent with the book from 'Cinderella' to the lucky child receiving their gift.
Books like this, if they survive, tend to have seen plenty of hard usage and the rather crude 3D technology gets mangled and lost. Pages get scribbled on, chewed, torn and the cover levered from its spine. But just how often will the letter survive in all its pristine glory? Hardly ever I would suggest.
And what about the book itself? The artwork is based on the Disney film which was released in the same year as this promotion and I would imagine the film company thought this would probably be a bit of useful PR for them as well as for Stephenson. In truth, I'm not a great fan of this 3D 'magic book' craze which was especially popular as a novelty in the 1950s. I distinctly remember trying to simulate the 3D reader using sweet wrappers from a box of Quality Street – hardly high-powered technology!
This book is a little time machine that would take you back to other, more simple days. It's not just difficult to imagine any company coming up with a promotional  offer of this kind, it's hard to believe that even if they did, it would be a children's book that they would choose. And would any small polish and soap company be able to franchise a Disney production now? I very much doubt it.
You can find other copies of this online from second hand book sites but you'll struggle to find any as complete as this I'm afraid. You'll pay over £20 for one with the 3D glasses but I'm not sure what you'd have to pay to get the full story. The images below will give you an idea of what you might be missing.
Terry Potter
July 2020
(Click on any image below to view them in a slideshow format)