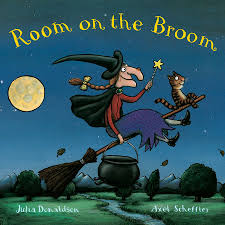 posted on 28 May 2020
Room on the Broom by Julia Donaldson reviewed by Aryana (aged 6½)
This book is about a witch flying on her broomstick with her cat.
Then suddenly the wind blew strong and her hat flew away. Then her bow and then her wand.
Three animals kindly helped her find items.
The witch was very, very happy and she offered them a lift in return.
The flying broom stick cracked into two pieces and everyone fell to the ground.
Then out came a Red FireBreathing dragon and said to the witch I am as mean as can be and he wanted to have her for tea. Her lovely friends saved her. In return she use a spell to make a truly Magnificent Broom Stick so that her friends could enjoy the rest of the ride.
My favourite character in this Book is the witch. I like her because she was clumsy and very funny. I wish I had a flying Broom Stick like hers. Also I liked her because she was very kind, made a truly magnificent Broom Stick for her friends.
I would recommend this Book because it is very funny and esy to read. Its fun because the story is rhyming. It has lots of pictures.
May 2020
( See Aryana's written original story by clicking on the images below)