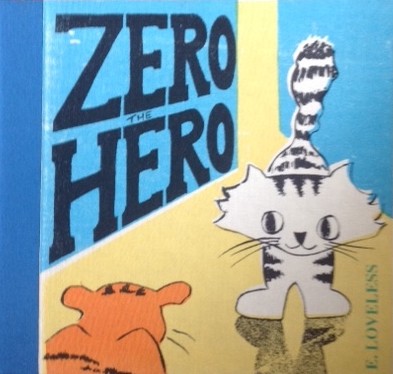 posted on 12 Aug 2019
Zero the Hero by E. Loveless
At first glance you might wonder what is so interesting about this board and cloth-bound children's squib, Zero the Hero that has prompted me to spend time writing about it. Well, in truth, there's not really much about the story itself that grabs my interest: it's a charming enough tale of a pampered cat, Zero the Hero, who finds himself unwittingly at first mistaken for an escaped tiger – an error that in fact gives him the chance to help the real thing find his way back home to the zoo.
So far, so uninteresting. As a capture from a flea fair it seem pretty standard stuff and what makes it interesting are the illustrations that have a sort of immediacy and life to them despite their obviously retro influences. What does up the stakes however is the final page which carries this statement:
" First published by The Factory Press, London 2007. This book has been screenprinted by hand using non-solvent based inks. Edition No. 14/750"
Handmade and each copy hand screen-printed. Now that's something you certainly don't see every day and accounts for the slightly up and down density of the printing on each page, especially on the text. All this was certainly enough to set me off on a bit of research to find out more.
E. Loveless is in fact Elizabeth (Liz) Loveless and the Factory Press seems to be something of a one-person industry:
"Factory Press is an independent publishing and design company founded in 2004 by printmaker and designer Liz Loveless. Liz is best known for her handmade, illustrated books, the first of which she put together for her post-graduate degree at Central St Martins and was published by Hyperion. Liz's books are all silkscreened in limited editions and hand bound in cloth or card. They are little artworks in themselves. Liz often employs a 50s colour palette of powder blue, sea foam green and dusty orange, which give her books a retro, nostalgic feel that appeals to both adults and children alike. Liz's pictures are often of birds and animals. She combines collage techniques with silkscreen to create the illusion of texture over a flat surface."
The quotation above comes from the Cabbages and Kings website and that blogpage also has a more detailed 'tour' of the Factory Press and the work of the artist. For those who are as fascinated by handmade books as I am, the link will be of great interest.
Reference is made to nine titles that have now been produced by Liz but I'm not really sure where Zero fits in the chronology – it must be an early one I would guess because the E. Loveless gives way to the more relaxed 'Liz Loveless' on some other titles I've found online.
The statement that these books are 'Little works of art in their own right' is spot on and, like me, now you know they're hand made by someone keeping alive a valuable craft tradition, maybe you'll want to hunt them down too?
Terry Potter
August 2019
(Click on any image below to view them in a slide show format)