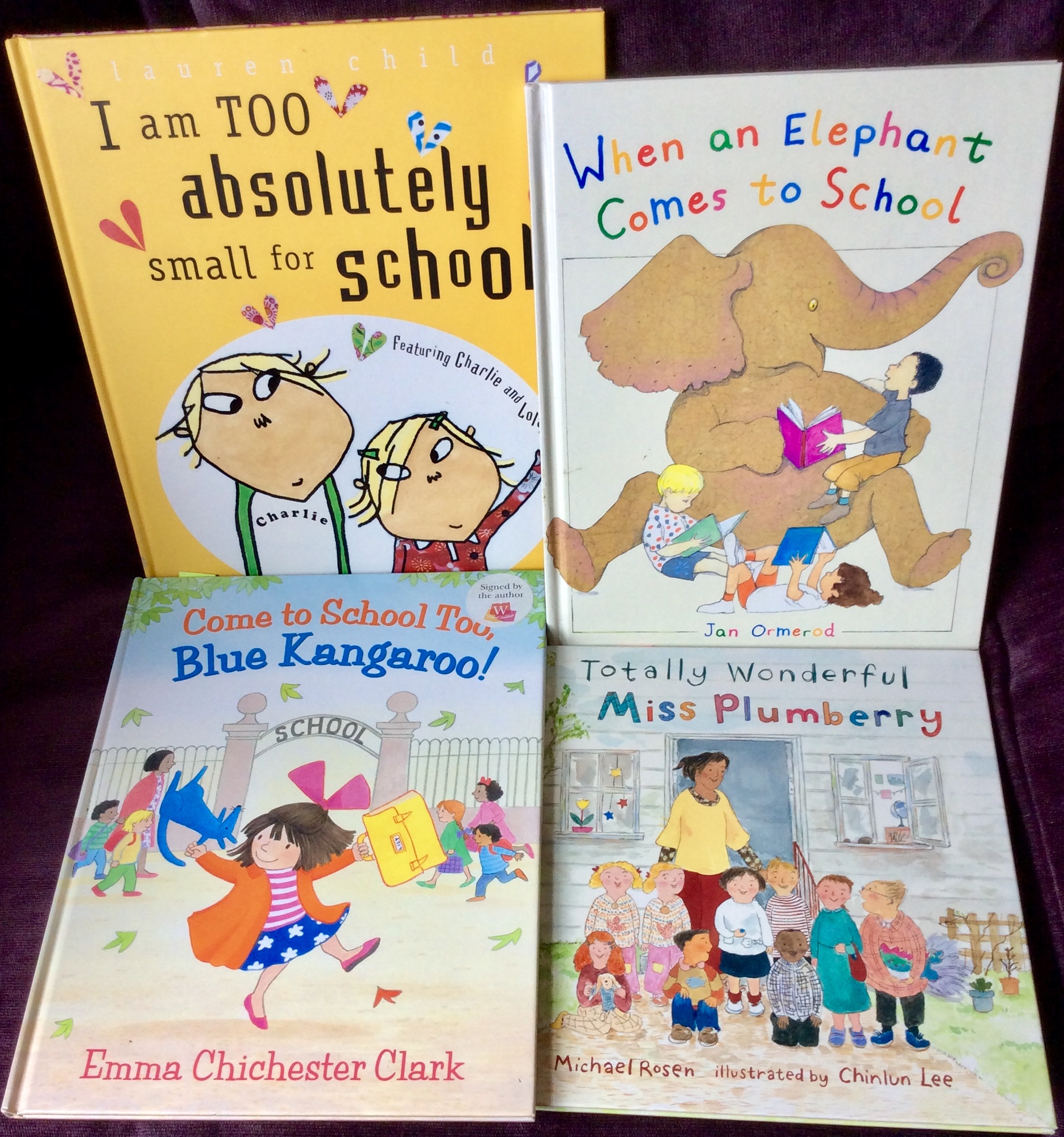 posted on 14 Jul 2019
Mommy, what will school be like? Taking a look at the portrayal of Reception Classes in picture books
There is no doubt that the world of picture books often romanticizes reality as Illustrators will almost certainly be drawing on their own memories and experiences to inform what they portray. Starting school is a good example of this and young children's experience of the first days in this strange and exciting new place may not always marry accurately with what young children have read about. For example, most picture books still show an old fashioned blackboard rather than an interactive whiteboard, even though these have been in most UK classrooms for at least ten years. There is often quite a lot of emphasis on learning the alphabet and doing very simple sums rather than the more practically based play activities that characterise a Reception classroom.
I have no problem with this at all, partly because books with this theme play their part in conveying a positive emotional experience that will help children to expect the very best. There are always plenty of books about starting school displayed in the shops during the summer holidays to entice parents. Some of these are informative but rather dull as we see characters like Topsy and Tim and Spot the Dog plod through the routine of the school day. These are primarily designed to reassure children who might be worried about missing their mum, being able to tie shoelaces, knowing the location of the toilet etc . All are important questions that can loom large as the big day gets nearer, but I prefer ones that have a bit more oomph and that present school as a thrilling but ultimately very safe place to spend time in. Here are a few of my favourites that you won't necessarily see promoted on the 'starting school display' in most bookshops:
I am Too absolutely small for School by Lauren Child
Many children will be familiar with the characters of Charlie and Lola from the popular TV series. Reading the books is a much more satisfying three dimensional experience because of the way that Lauren Child uses text and pictures. She is renowned for her collage effects with a mix of drawings, photos and patterns and the way in which the words are depicted in a variety of fonts and sizes moving around the page in unexpected ways. This one tells how Lola is full of suspicion about starting school:
'I probably do not have time to go to school. I am too extremely busy doing important things at home'.
Her older brother points out the many benefits including learning to read, eating a packed lunch and making new friends. She is convinced by the end of the story especially when Charlie reminds her that her (imaginary) friend Soren Lorensen will need her to go with to school as he is rather anxious.  Their first day is a big success although she explains that:
'It was Soren Lorenson who was nervous, not me. I was fine'.
Come to School Too Blue Kangaroo by Emma Chichester Clark
I am a big fan of the Blue Kangaroo books because he plays such an important part in young Lily's life. He is a much loved stuffed toy who has helped her through many adventures and always shows a deep concern for her welfare. When she gets ready to start at a new school, he is determined to go with her to enjoy all the fun, even though she explains to Aunt Jemima and Aunt Florence that he is feeling a bit scared. Actually, he seems to be looking forward to it more than she suggests. I like the way that his confident perspective is frequently shown in the corner of the page – he will not be defined by Lily!
On the first day, Lily tries to dodge going in because Blue Kangaroo apparently has a tummy ache but once she meets her new teacher, Miss Zazou she decides to stay. Here we have an excellent role model for all prospective teachers because she takes time to reassure Lily that all will be well and takes her concerns about Blue Kangaroo very seriously – never patronise a small child.
The first day goes very smoothly – so much in fact that Lily forgets to take Blue Kangaroo home with her. You will be reassured to know that he has a great time during his overnight stay in the classroom and gets the chance to try out all the things that the children had been doing during the day. In the morning, everyone is amazed to see what he has achieved, including Miss Zazou and the Head Teacher. 
When an Elephant Comes to School  by Jan Ormerod
I like this one with the softly coloured gentle illustrations because the elephant character is used to reassure the reader about all the little things that might be worrying them about starting school. Children are put into the position of making sure that the elephant has a positive experience in the classroom because he is probably rather shy. Everything is new and strange so they will need to help him out and be patient. Pretty much everything is covered like finding the toilets, making friends, the lunch time routine and what to do if he falls over I the playground or if he feels cross and tired.
It also emphasises all the special individual qualities that the elephant brings to the classroom like being able to use his trunk to do experiments with bubbles – much better than using a straw! He is very good at marching and making up stories but he is of course delighted to see his mother at the end of the day.
The overall message seems to be that school is a place full of kind people which can't be a bad thing.
Totally Wonderful Miss Plumberry by Michael Rosen, illustrated by Chinlun Lee
The key for developing a positive attitude to school is whether each child feels suitably cherished by their new teacher. This is such a responsibility which I remember fretting about when I worked with this age group. But it doesn't mean that all children respond well to the bouncy cheery stereotype who invites them to have 'fun' when they arrive at school in the morning. In my experience, lots of children begin the day feeling quite tired and tetchy about being hurried along and need some time and space to unwind. A gentle, sensitive teacher like Miss Plumberry is exactly what is needed to ensure that happens. We first see her crouching down talking to Russell as he clutches a rather flamboyant looking toy dinosaur in an area of the classroom with lots of interesting plants at child's eye level. The story is all about Molly who has arrived through the door clutching a very special crystal belonging to her Grandma that she has brought from home. At first the other children crowd around her but they are quickly distracted by Russell's dinosaur which apparently spurts water and they all  run after him.  Miss Plumberry notices Molly's disappointment and quickly refocuses the interest:
"Molly, your crystal is totally wonderful.
It's one of the most lovely and perfect things
I've ever seen".
And everyone moves back to gather around Molly for a closer look at the crystal before all following this considerate and calm teacher across the classroom to enjoy the rest of the day together. I think that you will agree that Miss Zazou was pretty impressive, but what parent wouldn't be happy to leave their child in the care of Miss Plumberry?
Karen Argent
July 2019