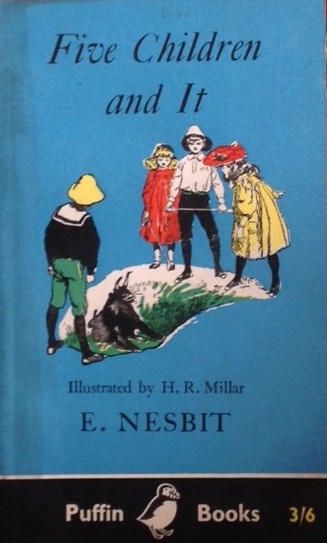 posted on 02 Jul 2019
Classic Covers: Five Children and It by E. Nesbit illustrated by H.R. Millar
This first Puffin Books paperback edition of the E. Nesbit classic, published in 1959,  marks an important moment in the history of Puffin Book design. Having been launched almost two decades earlier, the Puffin Book roster had grown so diverse and multifarious that there were concerns that its brand identity was in danger of being compromised.
To address this a decision was taken to introduce a one inch deep black strip across the bottom of the cover that would contain the Puffin logo, the company name and book price - three shillings and sixpence - in the bottom right hand corner.
Opinions on the aesthetic merit of this change differ, with some people finding it striking while others hated it. Phil Baines, author of 'Puffin By Design', falls into the latter camp, saying 'It just seems so heavy-handed, distracting and ….unnecessary'. But I'm more agnostic – looking at the design now, I can see its merits, especially when set against a cover with striking colour and otherwise spare design features.
Five Children and It was one of a series of classic Nesbit books that Puffin released in this format in the same year and which used the artwork of Scottish illustrator, Harold Millar (1869 – 1942) who in his lifetime had become a prolific book illustrator and had specialised in providing drawings for Nesbit's original publications. Other books in the series use a different but equally striking solid single colour background colour – green or yellow for example – but the azure blue of this volume is, I think, especially striking. The front cover illustration – depicting the children discovering the Psammead - has been cut and coloured and dropped into the centre of the book with the title in an italic font above it, the name of the illustrator in smaller lower case solid text beneath it and under that the name of the author in solid upper case.
The back cover shows another Millar illustration that has been coloured showing the backs of the five children walking and below them two short blocks of text introducing the book.
I spent a piddling £2.50 to get this copy which is in fine condition and I wanted it for its design values rather than for any nostalgia relating to the story – in fact it's a book I've never read. I'd gladly collect any of this generation of Puffins if they come in this sort of condition almost regardless of what titles they are because I truly believe they are design classics.
Terry Potter
July 2019
(Click on any image below to view them in a slide show format)