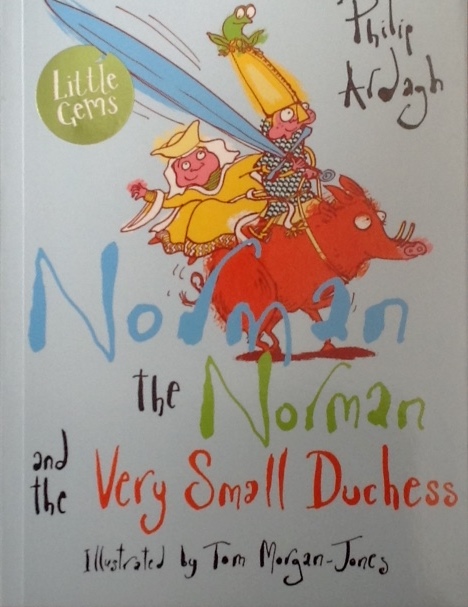 posted on 04 Jul 2018
Norman the Norman and the Very Small Duchess by Philip Ardagh and illustrated by Tom Morgan-Jones
Another in the delightful Barrington Stoke 'Little Gems' series, Philip Ardagh's 'Norman the Norman' is back with a new madcap adventure that takes the most outrageous liberties with historical fact.
Norman could be the most useless, clueless knight ever but fate has taken a liking to him and everything he touches turns to gold. What would be a disaster for anyone else turns into unexpected triumph for Norman – and he's blithely unaware just how he floats through life creating unexpected havoc for others while at the same time enhancing his own reputation.
Norman the Norman is the creation of the marvellously anarchic Philip Ardagh whose brand of humour is perfect for a young audience – with just enough tongue-in-cheek naughtiness to keep any adult amused who happens to be reading the book with (or without!) their children.
In this instalment Norman's been summoned to the court of William the Conqueror himself to help with the preparations for the invasion of Britain and there he meets Matilda, the very small Duchess. The two hit it off splendidly and, of course, it helps that Norman himself is not the biggest knight you'll ever come across.
Prepare yourself for an epic downhill roll, a ride on the back of a wild boar, a poisonous frog in wine and the slaying of a giant who is hiding in the trees. Most of it by mistake!
But it's not all madness and mayhem. There's some brand new historical facts here too. What history has failed to tell us before Ardagh came on the scene was that the Bishop of Bayeaux's gran was the inventor of the embroidery selfie! Now that's something you'll want to see. It'll have you in stitches ( sorry, the pun thing is catching……)
This is also a book that has been lavishly illustrated by the award-winning artist, Tom Morgan-Jones and his drawings aren't there just for decoration. Ardagh weaves the illustrations into the text and makes them part of the story-telling experience – and they really do live up to star rating. Big, bold colours and often full-page they give a feeling of energy that matches the prose.
The Little Gem series used the end card folds of the book to give the reader a bonus in the form of a game or quiz and it's the latter in this case. So if you want to find out 'what job would you have as a Norman on the Norman Conquest' this is the place to look.
Terry Potter
July 2018