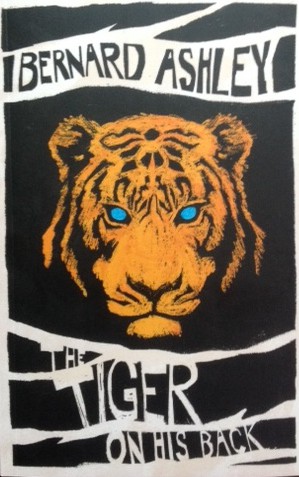 posted on 26 Jun 2018
The Tiger On His Back by Bernard Ashley
Over three years ago the Letterpress Project carried an article bemoaning the way children's books seemed to be failing to reflect the ubiquity of tattoos as an increasing part of a young person's social reality. With the passage of so much time and with tattoos becoming an even more established part of so many people's identity and self-presentation, you might have expected things to have changed significantly – but, in my experience of the content of most mainstream children's books, this isn't the case.
So it's refreshing to see that this latest offering from the ever innovative Barrington Stoke publishing house steps boldly into that territory. Bernard Ashley's The Tiger On His Back not only puts tattooing and body art at the centre of the story but, crucially, does it in a really positive way. All too often, if tattoos are even mentioned, they are used to reinforce an association with gangs, prisons, poverty or violence but not so here. This is a book that starts with the premise that tattooing is a legitimate art form and those practicing it are real artists.
Sofia is an eighteen year old young woman on the cusp of leaving her middle class home and parents for university. When we join her story, her friend Lydia is about to introduce her to Sol, a young tattoo artist with a growing reputation who might be able to provide her with a tattoo of her beloved tiger. Sophie wants something that will act as a badge of commitment, a permanent symbol of her dedication to wildlife and endangered species. But she's also really nervous about the whole idea of a tattoo – what if it hurts too much? And, more to the point, what if her parents go ballistic?
But Sophie and Sol hit it off and Sol has a really killer tiger tattoo template that's impossible to resist. Sophie has the tattoo on her upper leg (that's a compromise because she can keep it hidden from her mom and dad) and when it's done there's a surprise. The tattoo is great but it's more than that – it's fabulous because of the unconventional piercing blue eyes.
Eventually Sophie plucks up the courage to show her parents the tattoo and she's delighted to discover her dad is entirely fine about it. In fact he's really excited because, as an actor himself, he's just got a film role that requires him to have a tiger tattoo on his back and he plans to have a copy of Sol's design painted on for the duration of the film. This will be great advertising for Sol and money too from the film company.
But all isn't quite plain sailing. Sol's old business partner has, unknown to Sol, stolen the design and used it on the back of a boxer who is determined to keep it as his unique personal design. Now Sol is in trouble unless he can prove that the design is his own original creation and there's only one way he can do that – find the original painting he did that was the basis for the tattoo template. Sophie and Sol set off on a quest to find what happened to the painting while at the same time his crooked ex-business partner has sent the boxer off on their trail and the film company are getting cold feet……..
Of course I'm not going to tell you what happens – read it yourself!
The book is guided for a reading age of 8 and upwards but I have to say that I thoroughly enjoyed the story and I can easily imagine this appealing to more reluctant older teenage readers too. The book design is really striking as well with a knockout front cover of the blue-eyed tiger and a series of black stripes that run through the book carrying the theme through to the end.
This one comes as highly recommended.
Terry Potter
June 2018