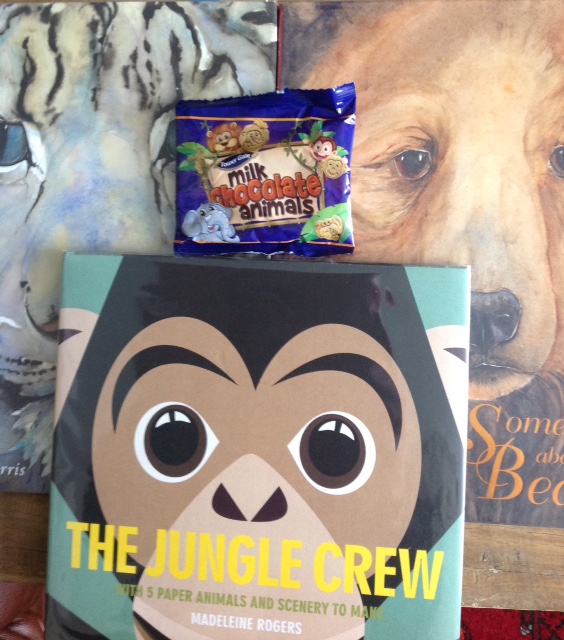 posted on 01 May 2018
How stories and chocolate can help fuel a passing childhood passion
I am pleased to say that my eight year old nephew has always liked books so I have tried to send one every so often that links to his passing enthusiasms. When he was six he was very keen on collecting pop up books and last year he was very excited about anything to do with space so I was more than happy to put regular parcels in the post.  This year he has discovered Harry Potter which is great, although I have realised that he is probably more interested in possessing the books rather than reading them. This is something that I recognise in myself because I love poring over my collection, browsing the pictures and generally feeling pleased that my bookshelves are well stocked.
Whenever my three year old grand daughter expresses an interest in something or has a big event on the horizon - I tend to search out some related stories because I hope that this might add another dimension. For instance, when she started dancing classes I sent a selection of the Angelina Ballerina books by Helen Craig and when she seemed fascinated by looking at frogspawn with her childminder, I found one that showed pictures of the life cycle of the frog and popped it in the post. Starting at nursery is going to be a big and exciting moment so I recently gave her two rather lovely books to mark the occasion: 'See You Later Mum' by Jennifer Northway and 'My First Day at Nursery School'  by Becky Edwards, illustrated by Anthony Flintoft.  Both show the wide range of activities that will be on offer and to help to make this unfamiliar world look safe and cosy. They also acknowledge that it might take a little while to make friends and to fully join in, which I hope will reassure her. She has also started watching and enjoying a range of films so simplified versions of Paddington, Snow White and Peter Pan stories were obvious choices of books to follow. I should add that the parcels that I send usually include a relevant toy or activity for her to do - is this because I can't shake off being a teacher?
I have complicated the gift package still further by including some kind of chocolate treat which has come to dominate the whole experience because she seems to want that above all else.  I suppose I was going for an all round sensory treat but rather imagined her eating the chocolate while she was reading the book ( as I would) rather than scoffing it down first and then running off to do something else!
Sometimes I take the various items with me when I visit and so can observe her reaction first hand. She has recently been to see the 'Dippy the Dinosaur' exhibition so I recently decided to put together a bag including a DVD, a magic painting book, a dinosaur sewing kit and ' The Wondrous Dinosaureum' by John Condon, illustrated by Steve Brown which is a very funny picture book, recently reviewed on The Letterpress Project website. A themed chocolate delight was of course included - three little dinosaur eggs. As expected, she went straight to the chocolate and was pretty dismissive of everything else in the bag saying that she didn't like dinosaurs! Three year olds certainly don't mince their words, although we read and enjoyed the story together later
Perhaps I need to model the reading while eating chocolate experience for her - together I suspect that we might be able to polish off a large selection box while we relish some beautiful books. Or do I need to tie the pleasure into eating strawberries or broccoli instead? 
Karen Argent
April 2018