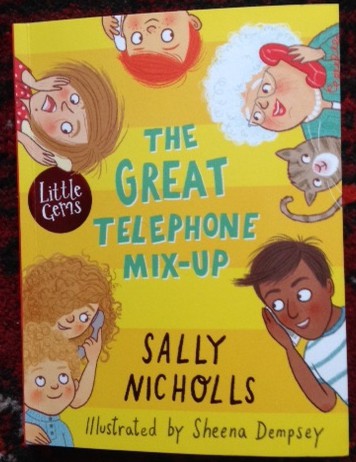 posted on 29 Apr 2018
The Great Telephone Mix-Up written by Sally Nicholls and illustrated by Sheena Dempsey
Barrington Stoke's Little Gem series of books are always a real delight – not just for the stories and the illustration but for their tremendous production values. The publisher has captured this exactly in their promotional blurb which says:
"Little Gems are in a gorgeous new chunky format, with high-spec production including coloured endpapers and jacketed flaps with activities. Additional features include high quality cream paper, Barrington Stoke font and illustrations on every page."
Precisely so.
Anyone familiar with the series isn't going to be disappointed with the latest, The Great Telephone Mix-Up written by Sally Nichols and marvellously illustrated by Sheena Dempsy. This is a charming story of the value of community that is, it seems from the dedication at the front of the book, based loosely on a true story.
In a small town that doesn't have mobile phone access, everyone relies on their landline to arrange their complicated, self-contained lives. All well and good until a storm brings down the line and completely messes up their arrangements. But, when they are eventually reconnected, there's been a mix-up – instead of getting their telephones back everyone has the wrong number coming into their house. To begin with everyone is nonplussed or frustrated by getting someone else's phone calls until they begin to realise that swapping messages with each other is actually bringing them closer together. Problems that might have been kept private get shared and, more importantly, solved.
Soon the town stops being a collection of isolated individuals and becomes a thriving community who help each other and who share the burdens of living together. In the end do they really want things to go back to normal………..?
It's a story with a simple but very effective message which is greatly enhanced by the illustrations which are colourful and gentle. I have to give a nod also to the author and illustrator for including a character with a disability and not making a special issue of that – they appear just as a character and not an 'issue' and that's progress in my view.
Terry Potter
April 2018
( Click on any image below to view them in slide show format )