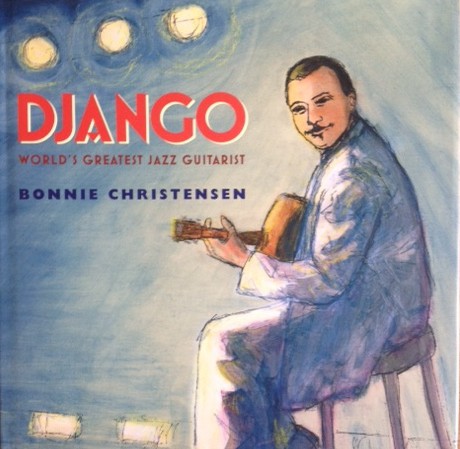 posted on 22 Apr 2018
Django: World's Greatest Jazz Guitarist by Bonnie Christensen
You don't see too many books that present the Gypsy community in a positive light or which showcase their heroes. You could argue that there are few more famous Gypsy artists than the great guitarist, Django Reinhardt who not only came from a marginalised ethnic minority but also had to deal with desperate injuries to his fret hand to become one of the most innovative guitarists of the 20th century. So it's great to see Bonnie Christensen's beautifully realised picture book biography that is designed to introduce Reinhardt to a wider audience of younger readers.
Christensen, who also did a similar job with Woodie Guthrie, tells Django's story in a verse format that allows her the chance to use relatively few words and keep the space on the page free for her beautiful illustrations. She draws using mixed media – there's charcoal, pastels, crayon and water-colour here and they create an effect that is reminiscent of some of Shirley Hughes' full page colour illustrations.
Born in 1910 Django's family travelled across Europe making their living from providing entertainments wherever they pitched up. Django learned to play banjo and guitar as part of a dance hall band and developed his love of the jazz style so well that he got an offer to go professional. But before he could fulfil his dream, an accident with an unguarded candle resulted in a terrible caravan fire that landed Reinhardt in hospital. His legs and hands were so terribly burned that the doctors said he would never be able to play guitar again – but he was not the kind of young man to accept that. Instead of giving up, when the last bandages are removed, he picks up his guitar and starts to strum. Lying there in bed he secretly works out new chords, new tuning and a unique guitar sound that he keeps to himself until he is ready to unveil his new technique.
The sceptical audience who are prepared to pity poor Django are shocked and amazed to discover he can play again – but not just in the traditional way but with a brand new, scintillating sound. He's on his way to fame and musical immortality because he had the courage to not give up but to find his own way of overcoming what could have been his darkest hours.
Christensen's retelling of the story, combined with her dynamic and up-beat illustrations makes this an inspirational tale for young readers and I really hope that it's also a story that will send them off to listen to Django's music – because ultimately that is where you hear Reinhardt's real jazz Gypsy voice.
Terry Potter
April 2018
( Click on any image below to view them in a slide show format )