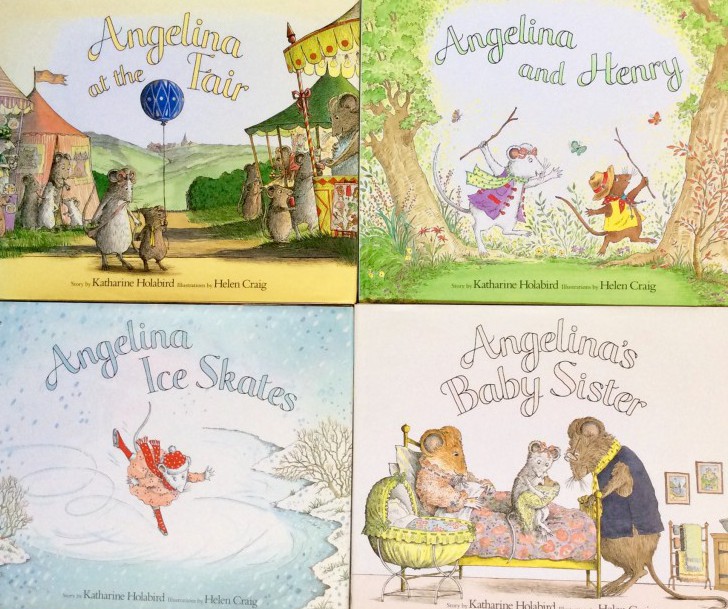 posted on 28 Feb 2018
Angelina Ballerina works her magic
I am not quite sure why some animals work more successfully than others as anthropomorphic characters in children' books. I am personally drawn to large lumbering creatures like bears, lions and elephants, and can also be persuaded to like the many cats and dogs that abound in picture books, even though I don't much like the real thing. Mice and rats are a different case altogether. Is it because in the real world they are viewed as vermin, or because they are just too little and twitchy – who knows? I am sure that some people would argue a strong defence of their particular charms, but I am not convinced and so usually refrain from buying ones that are too rodent- like. That rule firmly applied to the 'Angelina Ballerina' series of books ( over thirty five published so far) written by Katherine Holabird, illustrated by Helen Craig, until I recently became firmly hooked.
So what changed my mind? It was a case of realising that these books are written with a certain young audience in mind and so once I became part of that audience, I saw them in a very different light. To be truthful, I had never even opened one to read until a few weeks ago and so really didn't understand their appeal. The blurb on the inside jacket from Publisher's Weekly states that 'Angelina has simply charmed her way into becoming a modern children's classic' so I was clearly missing something that deserves a closer look. I'm not going to pretend that I have taken up ballet in my old age, but my three year old grand- daughter has recently started dancing classes and this is what caused me to pick one up as I was looking for some subject related books that she might enjoy.
I was surprised to discover when reading 'Angelina Ballerina', the first book in the series, that she is rather a feisty and determined young mouse. She is obsessed with dancing at every opportunity and very disinterested in tidying her room, doing her homework and other boring activities – she is quite a rebel actually. Her doting parents, Mr and Mrs Mouseling soon realise that her passion for dancing needs to be encouraged and so they buy her the required outfit and enrol her at the marvellous Miss Lilly's Dancing School where her talents flourish.
What I didn't realise was that subsequent books in the series develop her interests far beyond ballet. That becomes something that she continues to love, but it doesn't define her. Instead we have lots of eventful stories about her many adventures with her little cousin Henry. For instance I enjoyed reading 'Angelina and Henry' which recounts going camping with Uncle Louie and getting horribly lost in the forest at night. 'Angelina at the Fair' shows how she again has to show great bravery when Henry gets lost in The Haunted House. She also has to cope with the uncomfortably confused feelings of excitement and jealousy when her little sister Polly is born in 'Angelina's Baby Sister'. And, whatever else is happening in her life, there are usually plenty of opportunities for dancing and even adapting her skills to inspire a magical New Year's ice skating performance as seen in 'Angelina's Ice Skates'.
So every one of these stories is charming in itself but the delicately drawn detailed illustrations by Helen Craig are what make these books really special. Angelina the mouse has tremendous personality and together with her many friends and family, deserve a place on any child's bookshelves – whether they like ballet or not. I am very glad that I had a reason to get to know her and look forward to sharing them with my grand- daughter as she builds her collection.          
Karen Argent
February 2018