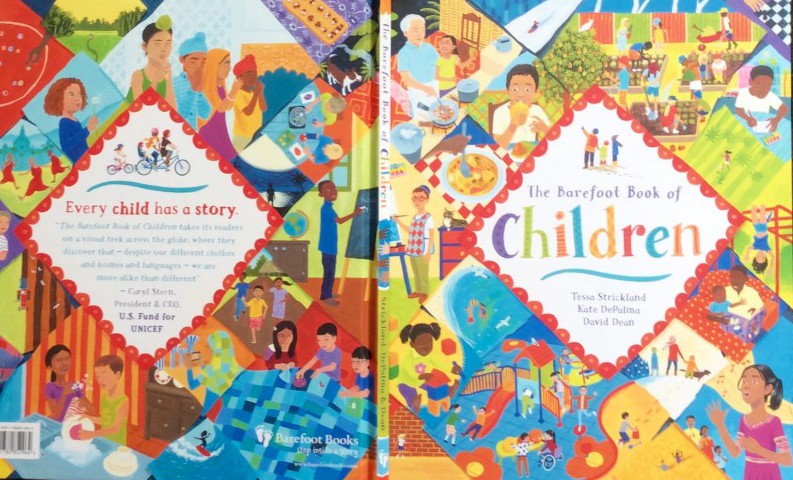 posted on 02 May 2017
The Barefoot Book of Children by Tessa Strickland, Kate De Palma and David Dean
It is no surprise that this splendidly satisfying big picture book is designed with strict attention to the Barefoot Books mantra:
'we celebrate art and story that opens the hearts and minds of children from all walks of life, focusing on themes that encourage independence of spirit, enthusiasm for learning and respect for the world's diversity'
The front and back covers get the positive inclusive message across straight away with the glimpses of many different people from across the world. The book is described by Caryl Stern from UNICEF as 'a visual trek across the globe' and is organised in a pleasing diamond colourful patchwork effect. This gives it a timeless folksy quality and also binds and equalises the various images.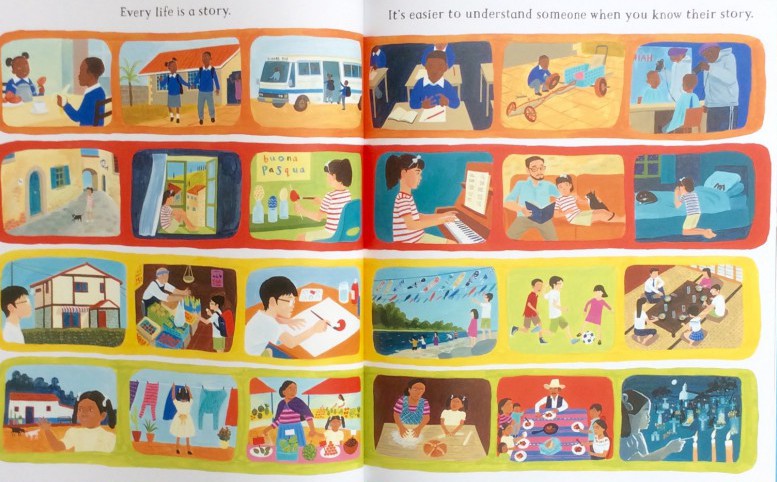 The end papers are painted with a calm turquoise wash, presumably to represent the sea, but every turn of the page provides a surprising feast of colour. It all begins with a montage of twenty one pairs of children's eyes, this time set out as a rectangular patchwork design to illustrate a wide range of skin colours, eye shape and colour.  Every subsequent double page spread is laid out in a different engaging way with minimal text but always has very detailed illustrations to draw the reader in. This is also achieved by asking questions and making suggestions that are all part of the invitation to feel included. For instance the reader is encouraged to think about where he lives and what he can hear or smell – I can imagine children reflecting on this and shouting out their ideas as they look closely at the sequence of six pictures that are this time presented as a gallery of long images. All the children are shown doing different things which is another powerful message about having agency and pursuing a range of activities, including a boy reading a book. Some are facing out and others are engrossed in what they are doing – everyone is different.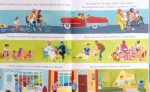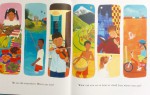 I particularly liked the pages that focus on families which groups these as little communities rather than separate examples. So the way in which the first two horizontal friezes that depict  families of different shapes and sizes are linked and bound together across the pages as co- existing in the same environment. Again the colour palette is bold and strong with a retro feel about it.The action continues using spotlights of different sizes framing more children having a go at some familiar activities like painting and using a computer alongside a girl in a wheelchair looking through a telescope and a boy planting a tree. Once again – the pictures are there to inspire and the invitation is put to the reader 'What would you like to do if you had the chance?'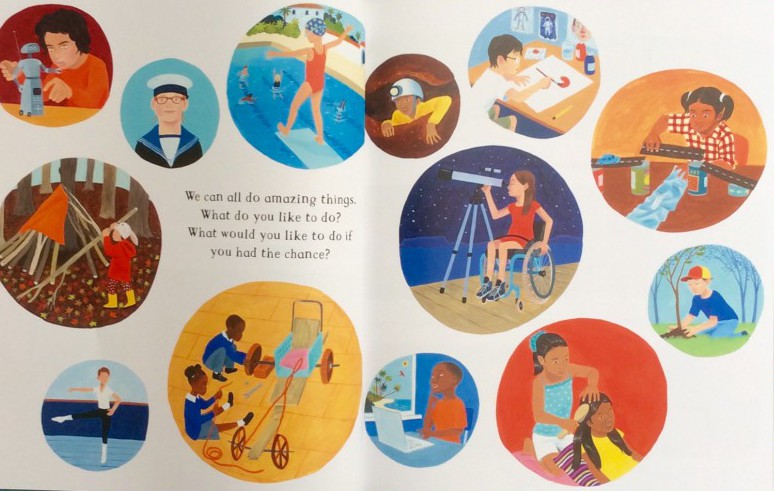 I also like the page that shows some children enjoying days that are out of the ordinary, with four very different images converging on the circular white bubbles of text. The contrasting colours used in each illustration of a special moment make each of these stand out vividly. The subject matter is unusual and thoughtful; for instance, two children welcoming home a woman dressed in an army uniform, presumably their mother. The facing page invites the reader to think of ways to make a day more special with some interesting examples that includes playing cards with an elderly man.Another powerfully designed double page spread is the one which presents four different stories told in pictorial form because 'It's easier to understand someone when you know their story'.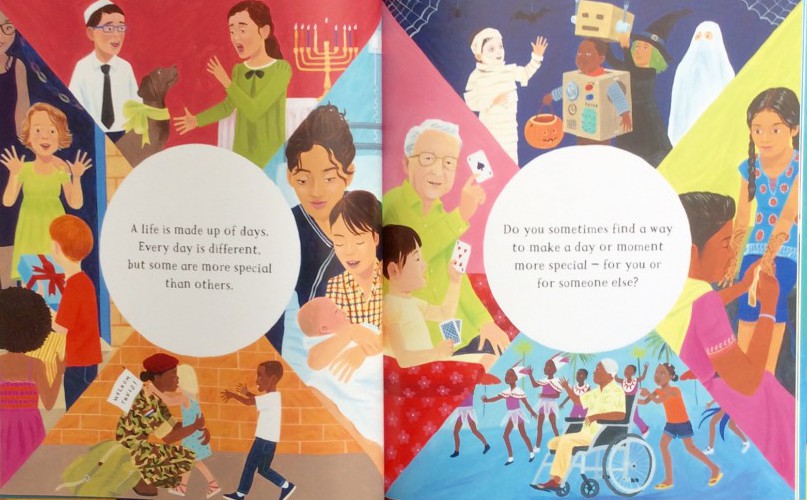 But apart from the stunning and stimulating illustrations and text, this is a valuable information book. The authors use the last few pages to state this emphatically 'There's a huge world beyond the pages of this book'. The layout changes again with more text on subjects like different foods, language variety and the derivation of names. All these are designed to entice further research and reflection.
I would have loved this very special book when I was a child with all its glorious detail and huge cast of interesting characters and so I will definitely be buying extra copies for my grandchildren to enjoy. It deserves to be pored over for many happy hours and gasped at in wonder as an inspiration for creative story writing and artwork of all kinds.  It should also be used as an informative encyclopaedia that will encourage further research – this is the kind of tactile experience that the internet just cannot match. It is also a beautiful book that needs to be in every classroom as a stimulus for discussion about identity, the environment and the wider world.     
Karen Argent
May 2017