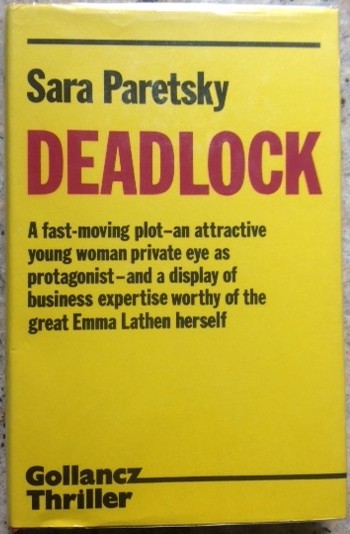 posted on 05 Apr 2021
Deadlock by Sara Paretsky
This 1984 novel is Paretsky's second outing for her sharp-edged, independent investigator, V.I. Warshawski – V for Victoria or Vic to her friends and never Vicki unless you've got prior dispensation. This fiercely independent female sleuth first featured two years earlier in Indemnity Only and Sarah Crown writing for The Guardian in 2015 described Warshawski as a 'tough-minded, big-hearted, fiercely self-reliant' central character. For Paretsky she was something of an antidote to the Chandler noir-man. Her plan from the moment she resolved to write crime fiction was to "write a crime novel ... that would turn the tables on the dominant views of women in fiction and in society" – a determination that sprang from the author's involvement in the 1970s with the women's movement and an interest in second-wave feminism.
In Deadlock, Vic is confronted with a very personal case – the death of her close cousin and star ice-hockey player, Boom-Boom Warshawski. Prematurely retired through injury but still a star to the hockey cognoscenti, Boom-Boom we discover had a new job in the Chicago and Great Lakes docks that ends prematurely when he falls into the harbour and ends up under the unforgiving propellers of giant cargo-loading ship.
However, as you might guess, Warshawski isn't prepared to accept her sporty cousin could be so clumsy and starts to develop a hunch that there was something distinctly fishy about Boom-Boom's watery end. Vic's decision to treat her dead cousin as her latest client is helped no-end by the fact that she is the hockey player's executor and has access to his flat and his papers.
A ham-fisted attempt to burgle Boom-Boom's flat, a rather mysterious ballet-dancing girlfriend and the untimely death of the flat's security guard is enough to convince Warshawski that there's something crooked going on and she begins to dig into the murky world of industrial shipping on the Great Lakes.
I'm not going to unravel the plot for you here because you wouldn't thank me for it but be prepared for shifty double-dealing, greasy executives, haughty shipping magnates, rough and ready self-made men, big explosions and more deaths. Through all of this our hero is run off the road and almost killed, jets across half of Canada to stowaway, gets blown up, threatened with drowning, lied to and seduced. Phew.
But I'm probably making this sound a bit more exciting and fast-paced than it actually is. In fact there are fairly sizable chunks of the book that get a bit bogged-down in explaining the financing and business models of the cargo shipping industry. Inevitably this does sometimes take the steam out of the developing mystery and the sense of jeopardy and can sometimes puncture the tension that otherwise ratchets-up nicely as we begin to see who is the moving spirit behind the plot Boom-Boom has uncovered and which has led to his unfortunate appointment with the big ships prop.
As I said at the beginning, this is just the second book in what would become a major series that also morphed into a minor movie franchise with Kathleen Turner in the lead role. This early effort really demonstrates just how both a writer and her characters evolve. Here Warshawski is still a bit one dimensional at times and her constant state of confrontational sarcasm makes it hard to believe anyone would spend any time talking to her without showing her the door and telling her to never come back.
It's also true that some of the handling of dialogue is a bit stiff and several other characters are a touch wooden and fail to convince or really come to life – Boom-Boom's treacherous girlfriend, Paige Carrington being a good example of this.
However, despite these hiccups the book is still a 'read in a couple of sittings' sort of novel that will keep you to the end even though you sort of know well before that point that the end is going to be less thrilling than it should be.
The book is easily available in all formats for not very much and Warshawski is, after all, a ground-breaking character in the crime genre – so why not give it a try.
Terry Potter
April 2021