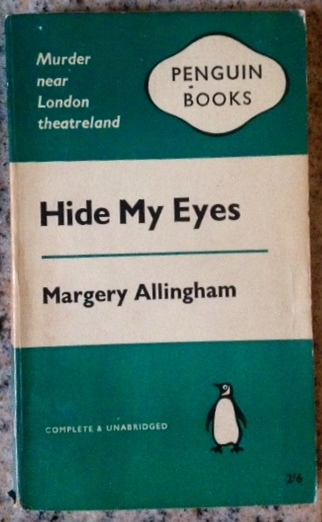 posted on 18 Mar 2021
Hide My Eyes by Margery Allingham
This is the first Allingham I've read and I have to admit that I expected that I would be reading something that was from the same stable as those other greats – Agatha Christie, Dorothy L. Sayers or Ngaio Marsh. In other words, a detective mystery from the fringes of the Golden Age of crime writing.
Although I have no familiarity with Allingham's work, I was aware that her famous creation was the private detective, Albert Campion who appears in something like thirty of her books. Hide My Eyes, which was published in 1958, is one of her later efforts and is also technically a 'Campion novel' but if you go on to read the book, I don't think it is a spoiler to say that Campion himself makes only the most modest contribution to this rather unusual story.
Far from being a conventional murder mystery story with our amateur sleuth being the crucial cog in the storyline, this is in fact an enthralling portrait of a serial killer. In many ways it feels very much like a British version of the territory so wonderfully explored by Patricia Highsmith in her Ripley sequence.
There's no mystery here to solve: not a whodunit but more an invitation to peep into the mind and motivations of a stone cold killer and to watch how the smallest of missteps unhinge the extraordinary world he has created for himself. And this is very much a story of how deluded self-confidence brings down our terrifying anti-hero – the police may be on his trail in their own inept fashion but without the killer's hubris they would remain outsiders at his killing party.
An excellent review of the novel by Paul Kincaid published on the Through The Dark Labyrinth website articulates clearly and with great insight just what Allingham is offering us here:
"At the heart of the novel is Gerry Hawker, though that is only one of the names he goes by. In part he is an affable rogue who charms everyone he meets; all his contacts are sure he is into something illegal, but he is so affable that none of them can believe it is anything really serious. Even when they encounter evidence to suggest otherwise, they dismiss it, put it out of their minds. But Gerry is also an amoral murderer who, by the end of the novel, has killed ten people…..Gerry is a thief and swindler who believes that once you have taken everything else from your victim, you might as well take their life, and he is so careful and so charming that he gets away with it."
I'm not going to unwrap the novel's storyline here because the enjoyment of detective novels is the discovery of the plot and I have no intension of spoiling that. And, in truth, the superstructure of the plot is nowhere near as interesting as the way Alligham takes us into the character and mind of Hawker. I was especially impressed by the way she was able to capture the menace beneath the fragile and veneer-thin charm and bonhomie of the killer – his momentary lapses of temper and bottomless eyes gave me genuine chills. I was also struck by the essential truth of how the never-ending lie and the refusal to ever apologise or backtrack creates a sort of creepy logic all its own. Women fall at his feet and men want his company regardless of his constant bad behaviour and his betrayals. Serial killers, we discover can be loved but they cannot themselves, it seems, love back in any way we recognise.
I don't think this is a highly regarded novel in Allingham's oeuvre but I found it unputdownable on an otherwise uninspired, wet weekend. This was an unexpected treat.
Terry Potter
March 2021