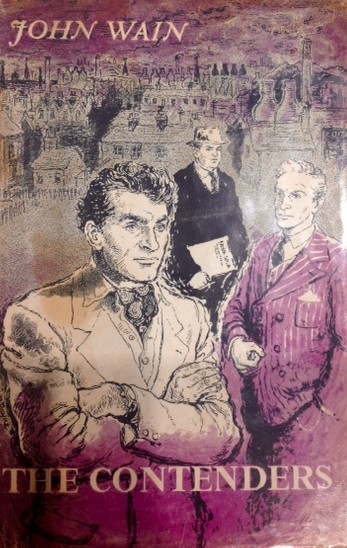 posted on 18 Feb 2021
The Contenders by John Wain
When I reviewed John Wain's first novel, Hurry On Down, I commented on the evaporation of the author's literary profile. With each passing year Wain's reputation – fragile at its peak – crumbles a little more and gets shabbier around the edges. There is, I would suggest, legitimate reason for this – Wain isn't and never was a first rank novelist. But, to his credit, he was a writer whose work captures a specific kind of fiction in a particular age – his prose is unadorned, redolent of the 1950s, mildly sardonic and without a trace of the modernist or experimental. The Contenders, first published in 1959, is a perfect example of Wain's qualities – and his limitations.
Three schoolboys in an unnamed Staffordshire town (almost certainly Wain's native Stoke) find that their lives become inextricably linked as their careers, their loves and their friendships play out over the years. Artist and force of nature, Robert and manufacturer and entrepreneur, Ned, are the contenders of the title. Drawn together by the mysterious need to outdo each other, the love and hate they have for each other are almost impossible to separate. Their tempestuous relationship is moderated and held in an odd tension by the third person in this triangle, placid, good-natured, unambitious roly-poly Joe who is also the narrator of the story.
Initially Robert and Ned compete over their careers with Ned having the initial upper-hand until Robert rises to fame in the art world – and meanwhile Joe becomes a provincial, very ordinary newspaper reporter who is forced to witness the Olympian competition. When women enter the scene the competition between the contenders ramps up a level and the drama of love, deceit and never ending competition takes on a raw and febrile aspect.
The sardonic eye of Joe, our narrator, provides the moments of comic observation and insight that stops the drama from becoming portentous but, in my view, he can't really make the increasingly unlikely storyline plausible. As is often the problem with these essentially domestic sagas, where the author can take them and how the slice of life can be satisfactorily resolved into a story is always a problem and keeping the action within the bounds of plausibility is a real challenge.
I think it becomes clear, not much over half way through, that the denouement of the novel will require Joe to step out of the shadows of the two contenders – which is exactly what happens. But, sadly, in a way that is completely unbelievable. But I'm not going to reveal that here because that would kibosh this book for you completely and it might be that only following the story for this outcome is the only thing that will keep you going.
How to characterise this book? Readable but ultimately mundane and a bit strained. And that might actually be a not too unkind characterisation of Wain's career as a novelist. He's never going to be considered as a first division novelist but equally he's not dismissible and utterly negligible. He's the kind of writer you want when you don't want to be tested too much but you also don't want your literary sensibilities insulted.
Paperback copies of this book are easily and cheaply available.
Terry Potter
February 2021