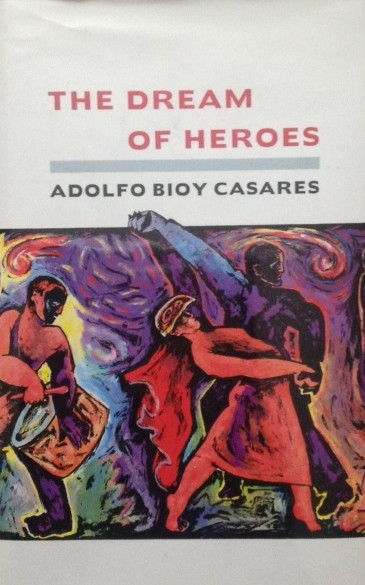 posted on 12 Feb 2021
A Dream of Heroes by Adolfo Bioy Casares
Casares is a giant of Argentinian literature but probably comparatively little known by general readers in the UK – despite being a close literary associate and friend of the mighty Jorge Luis Borges. Carares died at the age of 84 in 1999 leaving behind a substantial body of work – fiction and non-fiction - and there was often quite a big gap between the Spanish publication dates of his work and their English language translations. This was also the case with The Dream of Heroes which had to wait 30 years for its release on these shores in 1987.
Although the book's fly-leaf description calls this 'a strange blend of magic and realism', the word 'magic' might give the wrong impression because this is more of a mystery thriller than an excursion into magic realism.
In 1927, Emilio Gauna who lives in Buenos Aires is looking forward to carnival time and he's going to have an experience that will become the pivotal moment of his life – one which will dictate the shape of his future. Gauna uses money he has won from a bet on the horses to pay for his close (but oddly antagonistic) friends to go on something of a bender. Over several days, fuelled by drink and the adrenalin of the moment he stumbles from bar to bar until the whole experience becomes a timeless zone in which everything that happens feels significant. He meets a mysterious masked woman who he can't forget but also finds he can't really remember the details of why she is so special and he's aware he has experienced a series of epiphanies which he can't crystallise. He's left with the feeling that his life will never be complete until he repeats the experience and decodes the meaning of it all.
Gauna marries a young woman, the daughter of a 'sorcerer' who has been Gauna's guardian of sorts, and continues his life. But over three years the itch to discover the meaning of his past carnival experiences continues to grow. Then, one day, on the exact anniversary of his first windfall he has another win on a horse and decides to use the money to exactly repeat the carnival experience of his past so that he can finally encounter the meaning of it all.
What he discovers is that ultimately his fate can't be avoided and the meaning of his special carnival experiences has a depressingly real-world explanation – regardless of how hard others work to shield you from it your fate is not in your own hands. What we discover is that Gauna's wife is in fact the mystery masked woman who has been trying to protect his from his otherwise inevitable fate. I won't reveal the denouement here but it is central to Casares key theme of how a sort of dated and destructive notion of machismo passes from generation to generation, debasing Argentinian ideas of youth and masculinity.
Casares is brilliant at creating a picture of Buenos Aries in the Twenties and it's a style that feels almost cinematic. The review of this book by Kirkus  capture this quite nicely in describing Gauna's early days:
"In a stylized film noire atmosphere of low stucco houses, patios, a cappella tangos, and purple evenings, he lives through the wonderful ambiguity of adolescence.."
I found myself completely captured by the atmosphere of the book and the unwinding of the mystery at the heart of it. The book isn't easy to find and it is, I think, out of print again. The book was published by Quartet is hard and paperback and copies can be found on the second hand market but you'll probably have to pay between £15 and £20 for a copy.
Terry Potter
February 2021