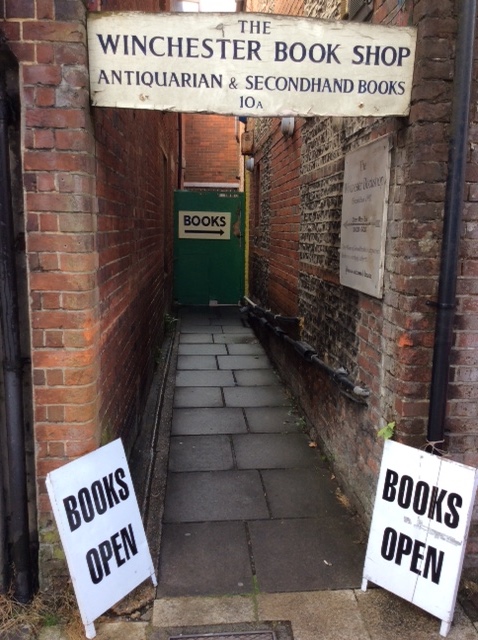 posted on 15 Aug 2018
The Winchester Bookshop, Winchester
The entrance to this bookshop might not, at first glance, look too promising. Located on St. George Street, it is accessed down a short rather narrow passage off the main pavement where there are free-standing shop notices and an overhead shop sign to lure you in.
Despite not having the benefit of a shop front, once you're inside you'll be more than glad that you made the effort. As is the case with so many of these shops which are housed in old properties, it's something of a Tardis – the small downstairs blossoms into a number of generously sized rooms over three floors.
On the ground floor where the owners desk is situated there are the really interesting collectables – first editions and larger illustrated books. There's some very nice stuff here indeed but with prices to match – which is fair enough but I'm not sufficiently well-heeled to shop on impulse.
On the floors above you'll find sections of books covering most of the categories you'd expect to find in a well-run and well-stock traditional second hand and antiquarian bookshop. It's nice to be able to report that the stock is very well presented and kept – thankfully there are no piles of overspill books cluttering the floor space and the shelves have enough space between them to allow a browser to move around comfortably.
Again, prices were what I would consider to be top-end but I think that probably reflects the shop's location in the city centre – I don't suppose rents here are cheap and the prices they charge probably reflect the income levels of people who can afford to live or visit an historic place like Winchester.
All in all, even though I didn't come away with anything, it's a lovely shop and one I'd urge you to pay a visit to if you're in the city.
Terry Potter
August 2018