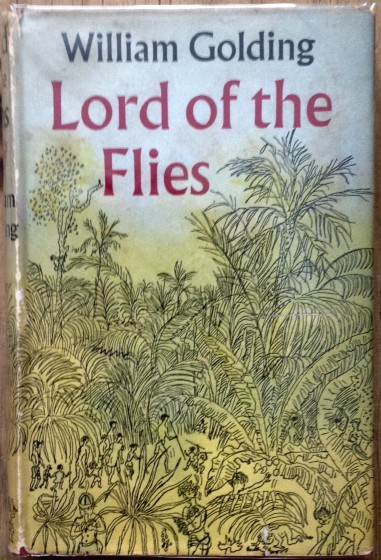 posted on 12 Jul 2018
Classic Covers: Lord of the Flies
Classic Covers is an occasional appreciation of first edition book jackets from our own collection.
Published in 1954 by Faber and Faber, Lord of the Flies has a jacket drawn and designed by Anthony Gross (1905 – 1984). Gross worked extensively in film animation and was designated as an official war artist throughout the Second World War. He would later become Head of Printmaking at the Slade and although book illustration was not his primary activity, he did provide artwork for editions of classics like Wuthering Heights and The Forsyte Saga.
The design for Lord of the Flies shows a quite simple pen and ink representation of the jungle vegetation that covers the tropical island that the boys get stranded on. Mixed into the foreground are outline sketches of the boys in this environment as they adapt to their wild surroundings.
The vegetation has been covered with a slightly sulphurous yellow wash that meets a blue wash sky and interestingly enough the design accommodates the spine and the blue and yellow wash spills onto the back panel. With this being the 1957 fourth impression of the first edition, the back panel also includes promotional advertisements for  two later novels, The Inheritors (1955) and Pincher Martin (1956).
The lettering on the front panel has the authors name in black and the title in larger red font and interestingly the word 'Flies' in the title isn't centred as you might expect but has been slotted into a gap in the treeline of the illustration so as not to overprint the artwork.
On the spine the title of the book has a rather ominous animal skull separating it from the authors name. For me it's a fantastically evocative piece of jacket design that beautifully captures the spirit of the book and its elegant simplicity adds to the novel's identity.
Overall rating : 4/5
Terry Potter
July 2018
(Click on any image to view them in a slide show format)