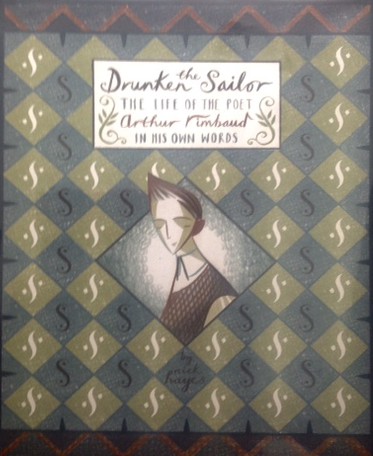 posted on 01 Jun 2018
The Drunken Sailor: The life of the poet Arthur Rimbaud in his own words by Nick Hayes
This really is a stop-you-in-your-tracks, knock-down dead fabulous looking book. Every bit of the design and illustration makes you want to rub it all over your body….
Phew! Glad I've got that out of my system.
Truthfully though, it really is a fabulous thing. What Nick Hayes has done is to take a translation of Rimbaud's 1871 poem Le Bateau Ivre and interpret it through his extraordinary illustrative skills into an autobiography of the poet.
As a result there are pages here with only half a dozen words, some with a lot less and some with none at all but the poem flows through the tumbling array of unnumbered pages all united by an astonishing series of illustrations.
Hayes gives the poem layer after layer of alternative meaning and is, at times, very direct and sexually explicit whilst at the same time being beguilingly decorative so that there are pages you have to go back to because it's not always immediately obvious what's being depicted. There is, for example, a sort of gay orgy taking place on one page that might not look out of place on a designer textile print.
The whole book has been overlaid with a dominant shading of green which I suspect must be a deliberate reference to the colour so favoured by the Decadent and Aesthetic Movements – think here of The Green Carnation or of the colour of their favourite drink, absinth.
What will also strike you immediately is the debt the artist holds to the British Romantic drawing tradition of the mid-20th century. You can't help but be reminded of the works of Edward Bawden or Eric Ravilious when you turn the pages. The extended metaphor of life as a sea journey and the individual as a boat riding the waves gives the illustrator plenty of chances to roll-out ideas of storms, journeys to exotic lands and being cast adrift.
It's easy to see why Hayes, whose previous project had been a retelling in similar style of Coleridge's The Rime of the Ancient Mariner (which he called The Rime of the Modern Mariner), was drawn to Rimbaud's equally watery subject matter. Rachel Cooke writing for The Guardian was clearly as intoxicated by the book as I was. She observes:
"his visual narrative has an intense, restless pace: at times, it feels almost syncopated. When our sailor – the poet, whom Hayes depicts with a head shaped like an onion – is lost in far-off lands, there is crowdedness; when he is far out at sea, there is boundless space. The benign (here is an owl, perched on a moonlit branch) and the sinister (a skull, a serpent) are always locked in mortal combat. Most stirring of all is the moment when our young libertine falls into the arms of his lover, Paul Verlaine, a "poem of the sea" in which he swims "lactescent, drenched in stars, insatiable…" The two men's haunches bend easily but strangely, too: a collection of unlikely angles suggestive of a lust that – at this stage, at least – is open, ever generous. I think I would buy The Drunken Sailor for this scene alone: here is a ribald beauty you find only rarely between hard covers."
Whatever doubts you may have about 'reading' adult illustrated books, I urge you to put them aside and go take a look at this one. I am not a huge fan of graphic novels myself but I don't believe that this is what this is – it should be seen much more as a poem and a complex narrative told largely in picture form but with an exquisite lyrical verse acting as the essential superstructure.
It's only available in hard cover at the moment and I'm not sure what plans there are for a paperback. But in reality you're going to want the hardback if you've got any sense and is £15 - £20 (prices vary depending on where you buy it from) too much to ask for a piece of art this good?
Terry Potter
May 2018
( Click on any image below to view them in a slide show format )