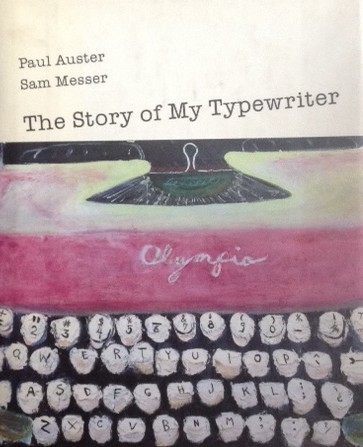 posted on 29 Apr 2018
The Story of My Typewriter by Paul Auster and Sam Messer
As I start this review I have the feeling that you're going to struggle to understand why I find this little book so compelling and irresistible. Auster's essay is only a few pages long and you could be forgiven for thinking that it's a negligible little piece of whimsy about his love for his typewriter – but you'd be wrong.
Working with the artist, Sam Messer the book transforms into a multi-layered meditation about creativity, the relationship between a writer and a visual artist, the nature of obsession and our investment in our objects. And all of this is done between two covers that are packed with artworks that will make you gasp, smile and wonder at the skill and talent.
Auster's part in all this is to tell us in a deceptively low key fashion how, after taking a trip back in the 1970s, his typewriter got mangled in transit and, desperate for a replacement he could afford, he purchases from a friend the typewriter that would become his lifelong writing companion – and it cost him just $40.
He explains how, over the years, he resists the allure of the electric typewriter:
"The only alternative was an electric typewriter, but I didn't like the noise those contraptions made: the constant hum of the motor, the buzzing and rattling of loose parts, the jitterbug pulse of alternating current vibrating in my fingers."
He also develops a deep and abiding mistrust for the emerging computer and its capacity for word processing:
"There is no point in talking about computers and word processors…..too many friends told me told me horror stories about pushing the wrong button and wiping out a day's work.."
So Auster sticks with his beautifully engineered Olympia and the one day his friend and visual artist, Sam Messer pays a visit and starts his own obsession with the machine. Auster, who until this moment hadn't thought the typewriter much more than a convenient tool, is forced to reassess his ideas when Messer begins producing paintings that give the machine character and personality. Could it be, Auster asks, that the typewriter and Messer have shared some moment together, that they have communed?
Published in 2002, Auster still lives with the typewriter:
"Battered and obsolete, a relic from an age that is quickly passing from memory, the damn thing has never given out on me."
But he has had to have the metal return arm re-soldered on and he's had to source a massive bulk-buy of ribbons before they were no longer available – actions which suggest that a well-established author quite capable of replacing the whole machine no longer feels that it's just a utilitarian tool.
You will, though, be hypnotised by Messer's artwork which lifts the book onto a whole other level. His sequence of paintings suggest not only that the typewriter has its own moods – and many of them – the anthropomorphic keyboard can be fearsome and intimidating. But the typewriter is in fact only a little more scary than the distinctly devilish portraits of Auster himself magicking words from the typewriter.
This is a book that I love because, I think, I understand this relationship and I'm entranced by this creative ménage à trois . The book has been put together with real love and care with no scrimping on the production values – the paper is high quality with a semi-gloss finish and the reproduction of the paintings is excellent. In some cases the pictures fold out to be double spreads – how great is that!
You don't see this fabulous book very often out in second hand bookshops but you can get a one from online traders – but you might have to spend a touch over £30 to have your own copy.
Terry Potter
April 2018
( Click on any image below to view them in a slide show format )