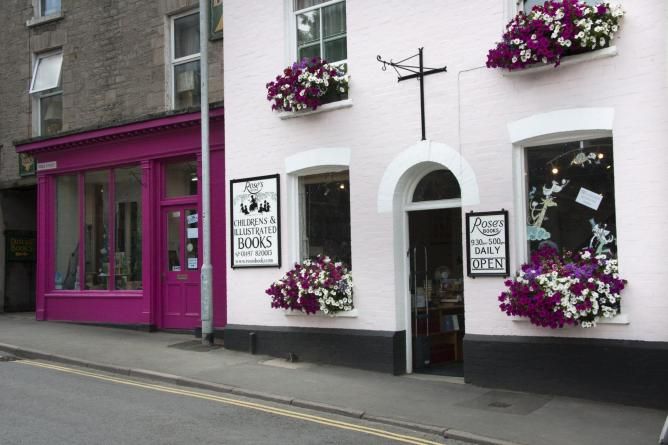 posted on 24 Apr 2018
Rose's Children's Bookshop, Hay-On-Wye
Situated at the bottom of the town, Rose's Children's Bookshop must have a claim to be one of the most attractive purveyors of second-hand children's books in the country. Thankfully, it's not just picturesque but also packed with a huge stock of collectables that are, it's fair to say, priced to reflect that quality.
This shop is one of two that trade under the collective name of Stella & Rose, with the other located in an equally delightful location on the main road into Tintern. This one in Hay however is in a lovely period building. Inside the ceilings are high, the windows fill the shop with light and there's plenty of room to wander around from front to back rooms. The shelves are kept in impeccable order and the books are clearly looked-after and loved.
I didn't get the impression that the shop has a particular specialism – you'll find vintage, Victorian and ultra-modern alongside all the classics you might expect to find and most collecting tastes are catered for. One of the real strengths of the shop is the feeling it gives you that you've come to somewhere that really understands children's books and values them. I suppose one consequence of that is that you're unlikely to find a bargain or neglected gem but if you are a children's book collector and there's something you really want, there's a fair chance that this will be the place to find it.
I personally could have done with a warmer welcome from the member of staff behind the counter when we paid our visit – I'm always puzzled why it is that bookshop assistants seem to think of their customers as a bit of a nuisance to be ignored or glared at. The shop is wonderful and deserves staff who will create the right atmosphere to encourage people to dip into their pockets – just acknowledging and welcoming you as you enter the shop would be a start.
Terry Potter
April 2018