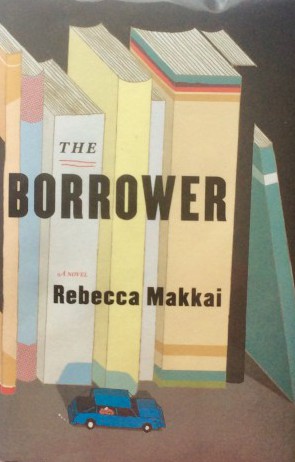 posted on 22 Nov 2017
The Borrower by Rebecca Makkai
As I am an avid reader and also a lover of mysteries, this first novel by Rebecca Makkai promised to be right up my street. It tells the story of Lucy Hull, a twenty six year old children's librarian who lives and works in the small town of Hannibal, Missouri. Although she enjoys introducing children to some of her favourite books, this is not enough. Her daily working life is often dull and repetitive, her love life is unexciting, and she lives in a poky room above a theatre which means that she is forbidden from flushing the toilet when performances are taking place.  She is feeling restless and is beginning to reflect on what the future might hold when the story begins.
Most of the children that come to the library are rather lumpen and disinterested in books despite her efforts. The exception is ten year old Ian Drake who is always hungry for her recommendations, but has a mother who tries to supervise his reading for religious and moral reasons. Lucy soon becomes aware that this parental censorship is only part of the problem because she finds out that  Ian is also attending weekly anti – gay classes with the notorious Pastor Bob who runs Glad Heart Ministries, an organisation 'dedicated to the rehabilitation of sexually confused brothers and sisters in Christ'. Lucy begins to worry about whether this constitutes child abuse and is determined to at least smuggle some forbidden titles into his rucksack when he comes to the library in order to redress the balance of influence. 
The action steps up when she discovers that Ian has run away from home and finds him camped out in the library, having spent the night there. And so their adventure begins as she makes the snap decision to take him away from his overbearing parents for a while. It soon becomes clear that she is also running away from her humdrum life searching for something more meaningful, although as she explains 'I wasn't at boiling point; I'd just been simmering along.'
The unlikely pair of runaways travel in her rickety old car across several states fuelled by a love of books and show great camaraderie, despite their differences in age. They are supposed to be going to visit his grandma in Vermont, although Ian is extremely vague about the details of where she lives. Despite his young age, Ian is an entertaining and imaginative companion who likes inventing games to pass away the time, singing and talking with her about books that he has read. Lucy is very comfortable in his company and persuades herself that she is good for him, which sort of justifies removing him from the less salubrious influences at home. But of course she knows that she hasn't   ' borrowed' him but  in fact has  kidnapped him and the longer that she keeps him with her, the more she is likely to end up in prison. On several occasions she is tempted to turn back but there is always something to prevent it so they continue to pretend that all is well. He also seems to be having a great time and so plays along with various deceptions to throw off any suspicion.
On the way they visit Lucy's Russian immigrant parents in Chicago and she uses the opportunity to learn more about her father's mysterious fugitive past which is not quite as truthful as she used to believe. She learns more about this when they go on to spend time with some family friends in Pittsburgh who are obsessed with ferrets. This is the high point of the adventure with descriptions reminiscent of Bill Bryson's excellent writing as Ian basks in the fuss showered on him by the elderly couple:
'He looked positively gleeful. There was a platter of thick Canadian bacon on the table, a dish of eggs scrambled with onions and peppers, two whole salamis, a pot of coffee, a plate of bread slices, a brick of muenster cheese, jams, mustards, peanut butter, and three more unopened bottles of beer.  Ian beamed up at me and put a forkload of eggs in his mouth. His hair stuck up in four separate Ferret-Glo cowlicks.
"I love Russian breakfast!" Ian said
 I really liked this novel which is very funny in parts. I am also keen on the many references to children's books and rhymes that are part of the story and sometimes the structure too. I have to admit that it plays to my own fantasy of nurturing a child who is obsessed with books and wants to talk endlessly about them with me. Ok, it is highly unlikely that such a kidnap would happen without immediate police reaction and media publicity, but that really doesn't matter. If the police had been involved then it would be a very different story. Lucy and Ian need sufficient time together to be able to work out their view of the world and to learn about each other and themselves.  I can well imagine that it would be a very successful 'feel good' family film with a moral not unlike that of  ' It's a Wonderful Life' or ' The Wizard of Oz', both of which are mentioned several times. It is ultimately a cosy story about the importance of home with a happy ending which I won't spoil for you. I look forward to reading more from this interesting new writer who kept me hooked with likeable characters from page one.  
Karen Argent
November 2017