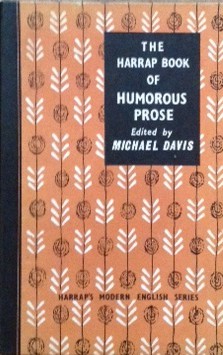 posted on 19 Nov 2017
The Harrap Book of Humorous Prose edited by Michael Davis
I suspect that all of us have our bookish equivalents of the famous Proustian Madeleine – something that will enable you to travel back to some ghostly moment of your past – and this book is one of mine. It's a rather drab, utilitarian and unassuming volume, typical of school readers, but as soon as I started reading the 'humorous' extracts in here I was back in a Birmingham secondary school classroom, staring out of the window across the grey tarmac playground to the grass bank that sloped precipitously down to the playing fields. Somewhere at the front of the class is the form teacher – was it Minovi or Short? – encouraging reluctant lumpen boys to participate in the joy of English literature.
The book has fourteen entries – a mix of extracts or short stories – that are a maximum of ten pages long and which were selected, I now assume, to represent a spectrum of what 'humorous' might mean. There's the slapstick farce of Stephen Leacock with a piece entitled Gertrude The Governess, which is lifted from his Nonsense Novels, and introduced us to the notion of the absurd – humour that wouldn't be out of place in a Marx Brothers movie. Or Evelyn Waugh's equally absurd but slyly satirical The Sports Day At Dr Fagan's School which has been clipped out of Decline and Fall.
Most puzzling to me was an extract from D.H. Lawrence's Sea and Sardinia which the editor has called Off To Messina – no laughs here I thought. Reading it again today I can spot a suggestion of whimsy, maybe a few wry observations but 'humorous' – I think not. I struggled then, as now, with the scientific humour of Paul Jennings' S Times What and E.V. Knox's The Murder At The Towers is still a disappointment.
The extracts from Gerald Durrell, George Orwell, Dylan Thomas, Saki and Wodehouse are all pedigree contributions of course – these are your bankers that just couldn't fail. But my absolute favourites were the American contributions – James Thurber's Secret Life of Walter Mitty  which is a short story in its own right and Damon Runyon's A Piece of Pie taken from his bigger collection called Take It Easy. Walter Mitty was a revelation to me – the fantasist who is impossible to dislike but who, like his British counterpart, Keith Waterhouse's Billy Liar, uses storytelling to lift him out of his otherwise soul-crushing run-of-the-mill ordinariness.
But Damon Runyon's magnificent character creation, his fabulous use of broad New York slang and his eye for the totally logical but ridiculous, make the story of Violet Schumberger and her pie eating prowess irresistible.
This being a school reader there is a section at the back designed to make a teacher's life as easy as possible by providing 'Talking Points' for each of the stories. Some of these talking points have the faint air of desperation about them. Take the first question for The Secret Life of Walter Mitty:
1.Is there anything wrong with living in a world of fantasy?
Or maybe you'd prefer to tackle this one from the Orwell extract entitled Rebellion At Manor Farm:
1."Benjamin the donkey…never laughed. If asked why he would say that he saw nothing to laugh at." Do you think that humans are the only creatures with a sense of humour? Is a sense of humour desirable anyway?
Seriously?
A nostalgic afternoon's read and it cost me 99p plus postage. Now that's a great way to spend a grey, wet November Saturday.
Terry Potter
November 2017