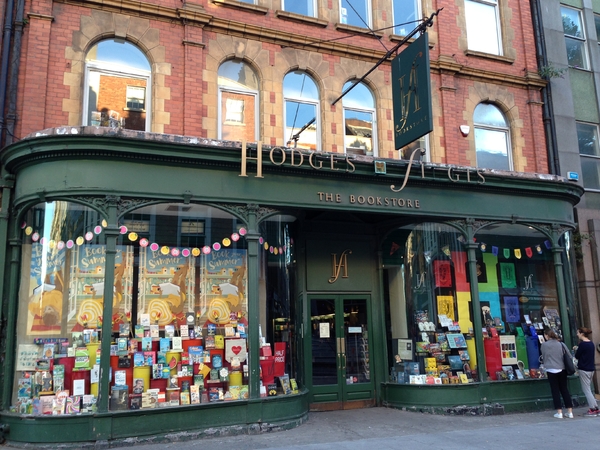 posted on 14 Nov 2017
Bookshop Memories : Hodges Figgis, Dublin, 1960-2 by Kevin Crossley-Holland
(This article originally appeared in the 2016 Letterpress Project publication 'Bookshop Memories Revisited' )
The first poet who set me on fire was an Irish word-magician. How I treasure the Macmillan hardback edition of his collected poems in its magenta binding, given to me, complete with inscription and yellow friesia (still there and still yellow) by Grania, the girl I'd met the week before during our first days up at Oxford. So when I had the opportunity to travel to Dublin, all expenses paid, as part of my college tennis team (sometimes my partner was the West Indian poet Mervyn Morris, who played at Wimbledon), and with it the chance of visiting Ireland's oldest bookshop, Hodges Figgis, it was like the promise of entering Paradise. All the more so because, as my mother never failed to remind me, I was one-eighth Irish, and could claim descent from the Keoghs and Sweeneys and Vere de Veres.
Fortified by pints of Guinness in the pubs where the word-magician had spent hours, and after time spent gazing at Georgian houses he had lived in or visited, I stepped across the threshold. Founded in 1768, Hodges Figgis was a shop that looked very much smaller from the outside than it was on the inside. Akin to Blackwell's in Oxford today. At once I was aware that this was a place altogether apart. It was quiet. You were not discouraged from talking to other browsers (or to yourself) but if you did, you spoke to them quietly. It was a sort-of secular sanctuary, wise with all the words and stories and poems within it, wise with the aura of all the great writers and other artists who had patronised and loved it. The stock of books was obviously arranged, but lightly so, and according to principles that might escape you until a second or third visit. Not only that, many of the books on the shelves were brand-new, but they stood cheek-by-jowl with second hand books and books long out-of-print. Piles of rather tatty literary magazines were perched rather precariously on stools. While behind gleaming glass lived the precious limited editions... Here and there, quite elderly acolytes, dressed in grey baggy suits, were arranging and rearranging books, doubtless keeping an eye on potential customers, and offering advice when asked without inflicting too much of it.
 In Hodges Figgis, I discovered 19th century magazines at knockdown prices containing the first printing of well-known poems by my word-magician. Excitedly I drew them to the attention of one or another of the acolytes who then immediately withdrew them... How naive I was! But there, too, during three spring tennis tour in successive years, I bought for £2.50 each almost a dozen copies of Elizabeth Yeats' beautiful, hand-printed Cuala Press editions of poems, prose and paintings by her brothers William and Jack, Rabindranath Bookshop Memories Revisited 8 Tagore, Patrick Kavanagh and many more. And then, back in Oxford, I was able to come out all square by selling one at £5 for each one I kept.
After Oxford (a poet's third, for the record!), I found a job as number three in the publicity department with the publishing House of Macmillan, home not only to W B Yeats but of so many of his Anglo-Irish contemporaries - AE and James Stephens, Lady Gregory and Padraic Colum and J M Synge. Before I knew it, I was corresponding with Sean O'Casey... his erratically-typed letters hopped all over the page. As a young editor, I went on raiding parties to Ireland and made friends with Eavan Boland and Michael Longley and many another, and very proudly published them. Apt to take so much for granted, I was still awed and seriously excited to be able to meet George Yeats – and I threw at her feet dozens and dozens of red roses. Later, she gave me permission to make a selection for children from W. B.'s work, the first of its kind, Running to Paradise. Ah! How one thing led so quickly to another – my appointment by the leading AngloIrish literary critic A N Jeffares as Gregory Fellow in Poetry at Leeds University (1969 - 71); friendship with the literary editor of the Irish Times, Terence de Vere White; making a pilgrimage to Glendalough; visiting Inishmore and meeting Maggie Dirrane, star of Robert Flaherty's Man of Aran.
What I'm saying is that the best of bookshops not only nourish literary curiosity of all kinds but can have a seminal influence on one's life – in my case, on my writing, publishing and social life. I've taught courses in the aisles of an American bookshop (the now defunct Hungry Mind in St. Paul) to students astonished to find the poets we were discussing were alive and kicking and looking down at us from the shelves – Allen Ginsberg and Galway Kinnell and Gary Snyder and Rita Dove. I used to lounge for hours in deep spring-less armchairs in Blackwells and read what I couldn't afford to buy. In Cracow recently, I was thrilled to see tables displaying holographs by Milosz and Szymborska... Yes, there are still some booksellers and bookshops worth the name, not least those catering for specialised interests – and certainly not least those involved in the crucial work of igniting in children a passion for books. 'Reading for Pleasure' is such an anodyne, forgettable catchphrase – we should be talking about flames and fierce joy and setting fire... Which is where, with W B Yeats, I began.