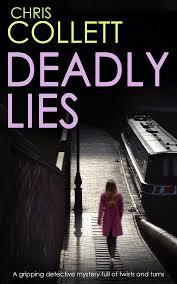 posted on 18 Oct 2017
Deadly Lies by Chris Collett
You always have to wonder what you're going to think when you reread a book and so it is a huge compliment to the author that I read this story for a second time and enjoyed it just as much as the first time. It was originally published with the title 'The Worm in the Bud' which was a reference to quite an important theme in the book in relation to foetal development, and has been reviewed elsewhere on this site. Now reissued as a paperback with a different publisher it will hopefully have a well deserved new lease of life.
It is the first book in a series of eight set in Birmingham about the very likeable Detective Inspector Tom Mariner, one of which I have already reviewed ( A Good Death). It introduces us to two others characters that play a part in the subsequent books, Anna and her autistic twenty nine year old brother, Jamie.  At the time of writing, Chris Collett was a very experienced special needs teacher and wanted to include lots of relevant information about this condition but ensure that it was seamlessly woven into the plot.  It is certainly a full time job caring for an adult with autism and the reader has to learn about it with Anna because she is unexpectedly landed with full responsibility for him when her other brother, Eddie, who has been his carer since their parents were killed in a car accident, dies in suspicious circumstances. As she does her best to help with the official police inquiry, she also has to cope with sleepless nights, difficult shopping expeditions, juggling work commitments and a pretty rapid loss of her social life. She also has to try to find out about the pros and cons of medication and the limited and very expensive residential care provision for young adults like Jamie.
I had forgotten how much recognisable detail there is about Birmingham and its suburbs that there is in the book. I happen to know that the author wanted to make an affectionate tribute to the city, warts and all. She is also an avid hill walker and so she is knowledgeable too about the rural landscapes she needs to paint when Mariner goes to Northumberland as part of the inquiry.
For me, the most  important hook to keep me reading a series of books is strength of the central characters because the reader has to care about them and want to know what happens next. I really enjoyed rereading it because it is also a well paced crime novel with red herrings a-plenty to keep who-dunnit fans guessing all the way to the end. If this describes you and you are reading it for the first time, you will love it.
Karen Argent
October 2017