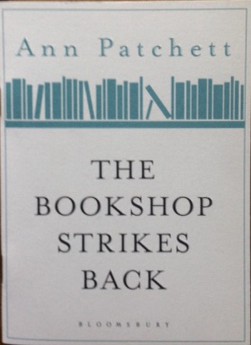 posted on 01 Oct 2017
The Bookshop Strikes Back by Ann Patchett
You can be forgiven if, like me, this pocket-size booklet published in 2013 passed you by. These cheap and handy essays were produced to sit by the shop till and to be bought on impulse as you waited to be served. Quite often these squibs are meant to be 'a bit of fun' (yuk) and are essentially ephemeral.
Patchett's is a little different though. A reprint of an essay originally written for the Atlantic Monthly, it's the author's piece of propaganda on behalf of independent bookshops and her extended justification of why she has taken the plunge and opened a bookshop of her own in Nashville, USA.
She opens her essay by explaining that the two big bookstores in her home town closed down in rapid succession and for reasons she found hard to fathom – both were, despite their size, seemingly profitable. As a writer she found herself without a natural location from which to sell her books but she had managed to convince herself that someone would come along and re-establish a viable bookstore in the town.
As time passed it looked less and less likely – this was, after all, the moment when popular opinion seemed to have decided the old-fashioned book had had its day and electronic media would wipe out the old dinosaur. Eventually teaming up with a putative business partner, Karen Hayes, Patchett decided to take the plunge and go into partnership.
From the outset she was completely honest about what her role would be – she clearly couldn't commit to the practical day-to-day setting up or running of the shop but she could use her reputation to promote the shop. On top of that Patchett is well networked and she was able to use her contacts to entice guest speakers and authors prepared to do book signings.
 Karen was committed to the name Parnassus for her new venture but Patchett was less than convinced – she felt the name was too easy to misspell and people wouldn't understand the classical allusion. But she gave way in the face of her partner's evident passion and the shop was born. Karen's organisational and logistic skills made sure the shop was kitted out ( she drove across the USA buying up shop-fittings and shelves from bankrupt Borders stores) and Patchett started her campaign of promotion and publicity.
The whole venture was all about faith and a commitment to the idea that people still want books and bookstores as long as they are genuinely community-based and built on a real love of the books they sell. But, truthfully, it wasn't cheap to do – they budgeted for a start-up cost of $300,000 and this is a level of funding that can only be dreamed of by many people with similar aspirations.
And so, three or four years later, Parnassus is still, it seems, flourishing. Nashville has it's bookstore and hopefully it has many years ahead of it to prove just how central independent bookstores are to every town and community.
As you'd expect from an award-winning novelist, the essay is a charming read, well written but the added bonus is that you also get the opportunity to cheer on one of the good guys and indulge yourself in a bit of proxy wish-fulfilment.
Terry Potter
October 2017