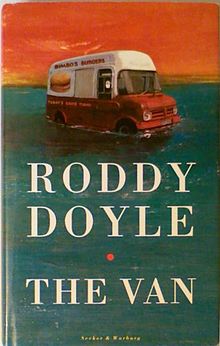 posted on 10 Sep 2017
The Van by Roddy Doyle
Roddy Doyle's Barrytown Trilogy is a rumbustious celebration of working class life in North Dublin at the end of the 1980s and the early years of the 1990s. It's shot through with marvellous dialogue, superb characters that will stick in your mind forever, plenty of laughs, plenty of tears, domestic tragedies that somehow get absorbed and lived with and ultimately all three books result in a monument to a class, a culture and the bravery of simple human resilience.
The books centre on the magnificent Rabbitte family who rival H.E. Bates' Larkins in terms of being a force of nature – but unlike Bates' bucolic gentleness Doyle gives us urban reality. He builds character from dialogue rather than from description and the success of the books hang on just how brilliantly he does this. There's a torrent of foul language but it's not in any way offensive (unless you've got a very narrow perspective on these things): instead it's a creative, living use of a lexicon normally associated with aggression and confrontation that has been fully integrated into these characters normal, often loving and sentimental ways of thinking and expressing themselves. In all three novels the words just crackle off the page.
I guess most people will be most familiar with the first book in the trilogy The Commitments which charts Jimmy Rabbitte Jnrs attempts to bring soul music to the people of North Dublin. It was made into a really excellent movie, there was a successful spin-off cd of the soundtrack and a number of the then unknown actors went on to have substantial careers in entertainment and the media. A great t.v. film was made of the second instalment, The Snapper, which tells the story of teenage daughter Sharon's pregnancy and the BBC also filmed the final book, The Van which has Jimmy Rabbitte Snr as the central figure. I have read all three books more than once and, by some distance, my favourite is The Van which I have just reread for the third time and found it's vivacity and poignancy as powerful as ever.
The Van explores a number of meaty issues – the impact of unemployment, the nature of male friendship, growing old, community and belonging and a host of other issues that you'll undoubtedly uncover for yourself if you read the book. Jimmy Snr who has been unemployed for some time and is struggling with the financial and social emasculation that has caused, lives for the now occasional evenings he can have with his friends down the pub – increasingly he feels that these are the only moments he's truly alive and really himself. Unexpectedly, his best friend, Bimbo, also loses his job and, once they have got over the novelty of spending whole days playing crazy golf or some such activity, the two decide to take on the renovation of a mobile chip van to be known as Bimbo's Burgers.
Despite being an hilariously hand-to-mouth operation they find that the filthy old van is a success and, almost imperceptibly at first, stops being a bit of fun and becomes a serious business proposition. Inevitably that changes everything and the warmth of the friendship between Jimmy and Bimbo is threatened by ambition and reality.
As the friendship descends into alternating bouts of acrimony, violence and reconciliation a bigger problem awaits them – they've attracted a visit from Des, the Public Health Inspector…
I'm not going to tell you how this plays out in the end because it will certainly spoil it for anyone who hasn't yet read it. Suffice it to say that at the end there's solace to be found back in the bosom of the Rabbitte family.
I have found something new in this book every time I've read it and even those parts I remember vividly I still look forward to reading again and I still laugh out loud at some of the slapstick moments. Towards the end of the book Jimmy and Bimbo have a blow-out night on the town to try and get back the old magic of their friendship and it really ranks as one of the most vibrant but heart-rending passages in any book I've read in recent years.
It's just brilliant stuff.
Terry Potter
September 2017