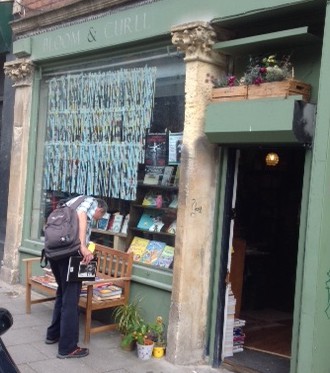 posted on 18 Aug 2017
Bloom and Curll, Bristol
We found Bloom and Curll on Colston Street because we were actually exploring the historic Christmas Steps area of Bristol. This is one of the oldest and most historically famous Bristol thoroughfare and it felt entirely appropriate that it should also be the location of a small, quaint, quite traditional bookshop.
When I say small, I mean it. There's barely room to swing the proverbial cat but despite that it undeniably has that most mysterious of qualities, 'atmosphere'. I personally found little of collectible interest, the emphasis is certainly more on paperbacks that will turn over quickly, but nonetheless it was a delightful shop to browse around for half an hour.
I think it would be hard to say that they specialise in any particular genres here, it's most definitely a general bookshop but that doesn't preclude the possibility that you'll light upon something that takes your fancy.
We were there on a very pleasant, warm weekday and the shop had plenty of customers drifting in and out so I suspect it has a pretty solid reputation with the locals.
As a book collector or dedicated book buyer you won't be blown away by what's on offer here but you also won't want to miss out on the experience of a visit to the kind of bookshop that's quickly becoming an endangered species.
Terry Potter
August 2017