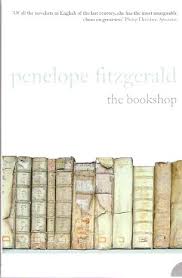 posted on 13 Aug 2017
The Bookshop by Penelope Fitzgerald
I first became aware of Penelope Fitzgerald when her third novel, Offshore, was published in 1979 and became a controversial Booker prize winner that year. I was given a copy and barely skimmed it, making the stupid error of mistaking her light, oblique, pared back, reticent style and sly humour for slightness. Of course, since then, Fitzgerald has become acknowledged as a classic English prose stylist whose novels have a genuine claim to greatness. She was approaching sixty when the first of these began to appear and I think this was to her great advantage: her hard-won worldly experience, her quiet steely resolve, and her somewhat bohemian upper class disdain for convention produced a unique and unmistakeable voice.
But the novel I want to consider here and which I have just read again is The Bookshop, her second novel, published in 1978.
But what was the world to make of a quiet, enigmatic novel about Florence Green, a widowed lady of a certain age, deciding to open a bookshop in the lightly fictionalised town of Southwold (Hardborough) in the Suffolk fenlands in 1959? And especially one featuring a poltergeist, East Anglian lore, the introduction of instant coffee and women's tights, bookselling accountancy, the publication of Vladimir Nabokov's Lolita and the scouring, ever-present coastal winds? It seemed so out of step with the kind of thing being published then – Ian McEwan's The Cement Garden, Graham Greene's The Human Factor, Martin Amis's Success, Len Deighton's SS-GB, and Iris Murdoch's The Sea, The Sea, to name just the biggest sellers.
Not very much, as it turned out, and yet in truth The Bookshop was more accomplished – and, as we now see, more enduring – than many of the bigger, louder, showier novels published that year.
And yet if Fitzgerald had stopped writing after her first early novels (The Bookshop, Offshore, Human Voices, and At Freddie's) then she would be remembered very differently today. For these early novels are all quintessentially English – small-scale, profoundly autobiographical, deceptively simple, shot through with the loneliness, melancholy and stoicism that became recognisable Fitzgerald traits. What marks them out is that from these apparently modest materials Fitzgerald makes greatness.
But exactly half-way through her career, Fitzgerald did something extraordinary. From the quiet, intimate, gently English autobiographical novels she suddenly began to move backwards and forwards in historical period and location with an ease and facility that continues to astonish. Innocence (1950s Italy), The Beginning of Spring (pre-revolutionary Russia), The Gate of Angels (pre-First World War Cambridge) and The Blue Flower (eighteenth century Germany) build on the unshowy brilliance of her hallmark style but with a startling new confidence. The lessons learnt on the small stage of her own experience had equipped her to take on the world and she made these different epochs and places uniquely her own.
Writing in The Guardian in 2015 Robert McCrum said of Fitzgerald that the closer one gets to her novels the more elusive they become in their mystery and technique, and he is absolutely right. But this doesn't mean they are difficult masterpieces of high literary style. Quite the reverse. Their mystery lies in their apparent simplicity, their limpid clarity, their immersive atmosphere, and the depth of their humanity.
But back to The Bookshop. I single out this particular novel because it is supremely enjoyable. I love its setting, the period, its marvellous atmosphere and its gently acid tone – it is a gorgeous miniature, perhaps best read in the autumn or winter. I had forgotten what an intensely visual book it is; I had forgotten the ease with which Fitzgerald moves amongst the minds and points of view of her characters – the masterful control. It showcases all the virtues of her earlier novels but also serves as the perfect introduction to her work – especially if, as I once did, you think she writes the kind of books you don't read.
I guarantee that if you read it slowly and savour it you won't stop at The Bookshop. You'll want more – more of that style, that voice, that sensibility. And one of the most beautiful and enigmatic bodies of late twentieth century literary fiction awaits you.
Oh – and does Florence Green's bookshop succeed? To find that out, you'll have to read it.
Alun Severn
August 2017