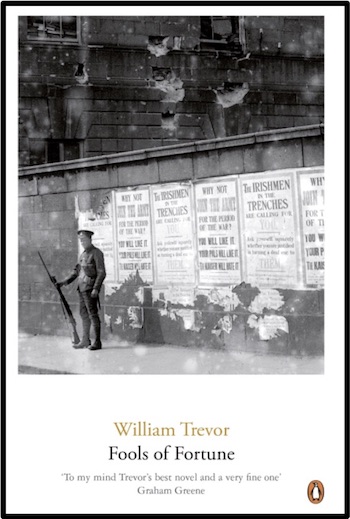 posted on 02 Jun 2017
Fools of Fortune by William Trevor
William Trevor's novels and short stories often seem to draw on – and sometimes blend – two quite distinct approaches: what might be called Irish Realism and Irish Gothic. In his Irish Realism Trevor can be seen as a direct descendent of the great Russian realists such as Turgenev and Chekov. In his Irish Gothic, Trevor seems to let his imagination run riot: the dark, the macabre, a touch of grand guignol, a sly even somewhat transgressive humour. My personal taste is more towards his Irish Realism. I often find the Irish Gothic a little overdone.
Fools of Fortune – for which Trevor won the Whitbread Prize in 1983 – is firmly in the Irish Realism camp, although as is often the case with Trevor, this is a realism that is also informed by a certain visionary or interior dimension. While arguably not quite a novel about 'The Troubles', it is certainly a novel about the long reach of suffering and what I have read described elsewhere as the "appalling intimacy" of violence in societies torn by civil war and inter-communal strife.
Willie Quinton is the son of a well-off mill-owning family the Quintons, aged eight when the novel opens in 1918, two years after the Easter Uprising. His sisters, Deirdre and Geraldine, are both younger. Trevor's supple detailed prose is tailor-made for the loving descriptions of rural daily life, the passing of the seasons and the eccentricity and tribulations of family life that inform much of the opening of the book. Much of this beautifully observed daily routine is seen through Willie's eyes – and is coloured by his deep desire to stay forever at the family house rather than be sent away to boarding school as his father thinks he eventually must be if he is to be properly educated. It is deeply elegiac writing – perhaps all the more so because this idyll is about to be swept aside forever by the civil and political unrest that one can almost feel approaching.
When the body of a brutally murdered Black and Tans informer is found on the Quintons' property, the ensuing violence will change everything. Black and Tans mount a reprisal raid on the house and staff and family members are shot and the house torched. Willie's sisters and his father are killed. His aunts move away. His mother over the years lapses into numbed alcoholism and eventually commits suicide. The dreadful single night of the massacre will reverberate through the generations.
Willie falls in love with a cousin from the English side of the family – an equally wealthy landed family. But how this plays out over the next thirty years or so is where the real shock and ambition of the book lie. The bitter legacy of violence and trauma continue in the life of their illegitimate daughter, Imelda.
Fools of Fortune is gripping and I read it virtually in a sitting. Its prose is amongst Trevor's best and you turn the pages hurriedly wanting to know how this devastating story is going to conclude. The sting in the tail – both despairing and, just possibly, a salvation of sorts – is the kind of thing that few novelists other than Trevor can manage to do convincingly. It is a brave and ambitious book and what it seeks to achieve is what Tolstoy achieves: history not as 'setting', but as the living, breathing medium in which characters exist and act.
To my mind it doesn't quite succeed, however, because of weak characterisation. While the descriptive writing is fine and fully realised, and some of the more peripheral characters are beautifully done, those who must bear the full tragic consequences of history – Willie, Marianne the cousin, and Imelda the child – at times seem barely more than cyphers. Indeed, at times Imelda seems little more than a convenient device rather than a person. This seems to be one of the rare occasions when the central conception of the book outweighs Trevor's powers to create fully rounded characters to populate the events it describes.
And yet it is an important and satisfying novel – and one that many writers would not have attempted, certainly not in the way that Trevor does, which is both conventionally realist and, in its closing passages, ambiguous and visionary.
While I have read a fair number of Trevor's masterful short stories, this is only the fourth of his novels that I have read. Thankfully, there are another fifteen to explore. And I love the black-and-white photography covers that Penguin has given these recent reissues. Quite beautiful.
Alun Severn
June 2017