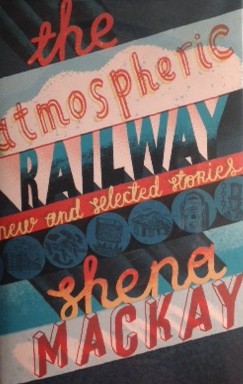 posted on 19 May 2017
The Atmospheric Railway: new and selected stories by Shena Mackay
I suspect that Shena Mackay would be described as a writers writer – her short stories attract lavish praise from the literary world but despite a Booker Prize nomination in 1996 she has never been a popular name amongst the general public.
Born in Edinburgh in 1944 she moved to England in her childhood and has lived in Kent, London and now Southampton. Despite hanging on to her Scottish identity, the impact of living in England for so long comes through strongly in her writing which immediately strikes you as quintessentially English in temper and tone.
The Atmospheric Railway (2008) is the first collection of stories of hers that I've read and they are beautifully crafted little gems that seem gentle on the surface but all carry a surprising little twist, a sly cutting edge or, in the famous phrase used about Pinter's domestic settings, highlight the weasel beneath the cocktail cabinet.
The title story, The Atmospheric Railway, is the longest of the 13 new stories in this volume and, for me at least, one of the weaker. The title, of course, is marvellous and intriguing ( she's great at titles by the way) and she's seized on a little known bit of railway history to use as a central metaphor for a story of modern life and modern disappointments. For me, however, the metaphor is a bit too obvious, a bit too much like having the message of the story forced on you.
She's much better when she's more oblique. There's an oddly unsettling story – Nanny - that features a jilted and wronged nanny who appears to transform in part into a vengeful goat or a satyress and a gloriously rollicking story called Radio Gannet that challenges the notion of going gently into old age and obscurity.
Mackay always takes care to locate us in a world it's easy to recognise by giving us plenty of references to the world of modern culture, modern commerce and modern shopping. Her environments are ones we'll recognise whether we shop at Sainsburys, listen to Tom Waits or buy Kellogs breakfast cereals. It is the very fact that we feel relaxed and comfortable in an easily recognised world that makes it easy to kick-back and, inadvertently, vulnerable to the introduction of the unexpected or unsettling.
I'm not a huge fan of short stories and I grow impatient with them very quickly. Mackay when she's good is very good but I think she can also miss the mark and this lack of consistency would, I think, limit the number of stories I'd want to read at any one time. I was trying to think whether her stories remind me of any others I've read before and I immediately felt that there was a distant echo here of H.E. Bates or maybe even Coppard but ultimately I settled on Saki (H.H. Monroe). Those of you who have read Saki's stories – try Tobermory  for example – will be immediately at home with Mackay.
This volume contains a selection of earlier stories to supplement the new ones – which makes it a sort of greatest hits collection and I suspect this is pretty much all I'm going to need. Copies of the book are available for not much over £5 online and if you're a fan of short stories you'll want this.
Terry Potter
May 2017