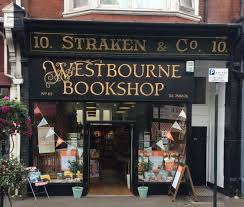 posted on 05 May 2017
Westbourne Bookshop, Bournemouth, Dorset
The Westbourne area of Bournemouth is a rather lovely part of town with a distinctive atmosphere – which is probably why you'll often see it referred to as an 'urban village'. It's exactly the kind of place you'd expect to find a flourishing independent bookshop and you won't be disappointed by this one.
There has been a bookshop on this site since the mid-1990s but ownership changed hands a couple of years ago and its now run as part of a family business that includes another shop in Wimborne Minster.
The shop itself has a lovely frontage that is redolent of the old-fashioned bookshops of the High Streets in bygone days. It's not huge but it is well designed and set out to maximise the space available.
Independent bookshops in situations like this tend to have a formula in terms of what they stock and in what proportions and the Westbourne Bookshop is no exception to this model. Of course decisions about what titles to stock are always variable and this is what makes visiting independents so much fun. You just never know what you're going to find.
These shops would certainly be missing a trick if they didn't keep a good selection of children's books. Parents with young children must make up a pretty big percentage of the footfall in a shopping  area like this and the selection of children's stock on offer here was pretty good, if a bit predictable.
It's the sort of shop that's necessary to a community like this and the fact that they provide such a well-kept and welcoming environment for the community is great. When people are prepared to invest in bookshops it's possible to make them places people want to spend time in and the Westbourne Bookshop have got the recipe pretty much spot on.
Terry Potter
May 2017