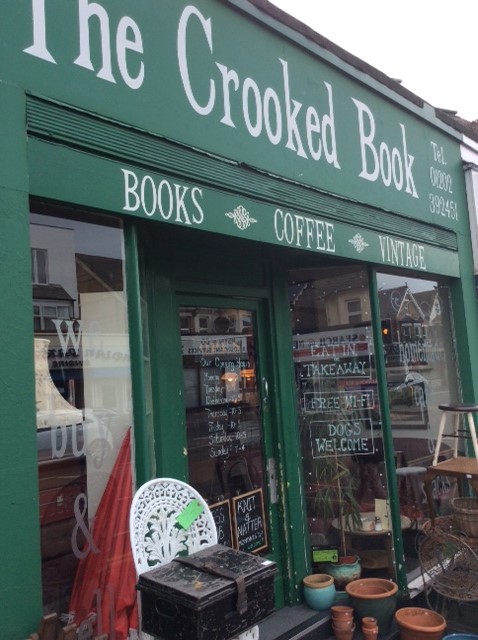 posted on 02 May 2017
The Crooked Book, Boscombe, Dorset
Located on the Christchurch Road in Boscombe – a long, long shopping street – The Crooked Book is an entertaining mix of vintage shopping, café cum restaurant and book shop. It's location on the main shopping drag is excellent for people who want to stop for a while, take the weight off their feet and have a coffee and gossip surrounded by interesting objects and, in the back half of the shop, a good selection of second hand books.
I'll leave others to assess the coffee and cakes or the vintage merchandise and focus on the books. It's clear that the owners have a good feel for books – the selection is enjoyably eclectic and you definitely get the vibe  that something interesting and collectible might just turn up here. Overall the quality is pretty good without being fine and the prices are entirely sensible – these aren't charity shop bargains but you'll get collectibles in the £10 - £20 price bracket.
I was especially glad to see a decent children's section where the prices were well within the range of pocket money – even if the quality here was a little more variable. You'll find something here from the nostalgic, to young adult and down in age to children's picture books.
As you might guess given the range of interests the shop caters for, space for the books is a bit compressed but rather than giving the impression that its jammed and cluttered the shop manages to feel enjoyably jumbled and serendipitous. I would have been happy to spend a lot longer here if I'd had the time but I was in danger of buying much more than I could carry!
I will certainly be heading back here the next time I'm down on this part of the coast and I'd urge anyone holidaying within striking distance to make a trip of it and I don't think you'll be disappointed.
Terry Potter
May 2017