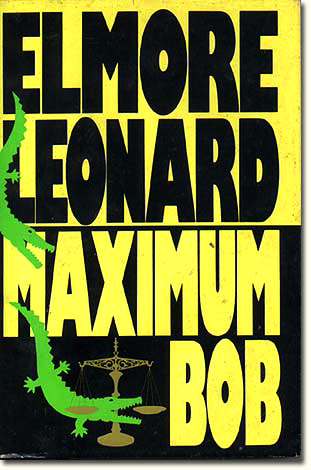 posted on 29 Mar 2017
Maximum Bob by Elmore Leonard
Kathy Diaz Baker's not having a great day. Her marriage to her narcissistic husband is over, her job as a Florida probation officer  has landed her with the task of seeing that Dale Crowe Jnr. makes it to prison and she's attracted the sleazy attention of Judge Bob Gibbs – Maximum Bob – a look-alike for Harry Dean Stanton and notorious womaniser. Kathy's resourceful and capable – she knows what's going on but managing it all might prove to be a handful.
When Dale's uncle Elvin – a seasoned criminal – comes on the scene things get even more unpredictable for Kathy. She does, however, have a bright spot in her life – a potential relationship with police sergeant Gary Hammond who is an oasis of calm and order in a world of wild and eccentric unpredictability.
Judge Gibbs didn't get his nickname, Maximum Bob, for nothing. His harsh sentencing has made him plenty of enemies and his penchant for ditching his wives for younger models hasn't endeared him to those who might claim to be close. So when it looks like someone is out to kill the judge there are plenty of people in the frame. When a live alligator arrives in his back yard and invades the house, Maximum Bob's latest bride, a former sea-life entertainer who channels the voice of a dead 12 year old black girl, decides it's time to leave.
You might think by now that you can guess the way this might be going but, believe me, you don't. Leonard is far too good a writer for that – but you're going to have to read it yourself to find out what happens because you don't need a spoiler in the shape of an over-detailed review from me. However, what I can say is that Leonard, who died over three years ago, pioneered a style of writing that was all his own. It's not the new noir characterised by the likes of James Lee Burke, although dark characters do desperate and tragic things, but it's not quite farcical either in the way that Carl Hiaasen created his comic masterpieces – it's somewhere between and as such it's that much more unsettling.
Leonard's cast of characters is undoubtedly bizarre – extraordinary low-life criminals, prostitutes, drug addicts and spoiled rich bad boys – but they mix with ordinary decent people, recognisable individuals with decent values and lives to live. However, mixing the two together is incendiary and Leonard certainly knows how to create an atmosphere. From the very beginning we know Elvin Crowe is bad news, he's a loser, he's deluded, he's stupid but he remains essentially dangerous. He has killed before and we know his boasting isn't empty hot air.
If you're looking for simple solutions in your thrillers don't look to Elmore Leonard. You are not going to get convenient homilies, or plot twists that make everything ok and tidy in the end – the bad guys don't always get their comeuppance and the good guys don't always come out of it smelling of roses. But what you will get are plenty of twists and turns and a ride to the dark side that makes the journey feel like fun until you realise where you've gone. His dialogue is the jewel in the crown – he knows how to capture the voices of his characters and they live through that skill, each one clear and defined and believable.
Elmore Leonard was, and probably still is, highly regarded by his fellow writers because he had that magic formula – the ability to write quality literature and make it wildly popular with a wide audience. I don't think this book quite reaches the heights he achieves with his very best work – Get Shorty for example -  but it's still an unputdownable read and perfect for a relaxing weekend or for the beach when you want something decent to read but you don't want to try too hard.
Terry Potter
March 2017