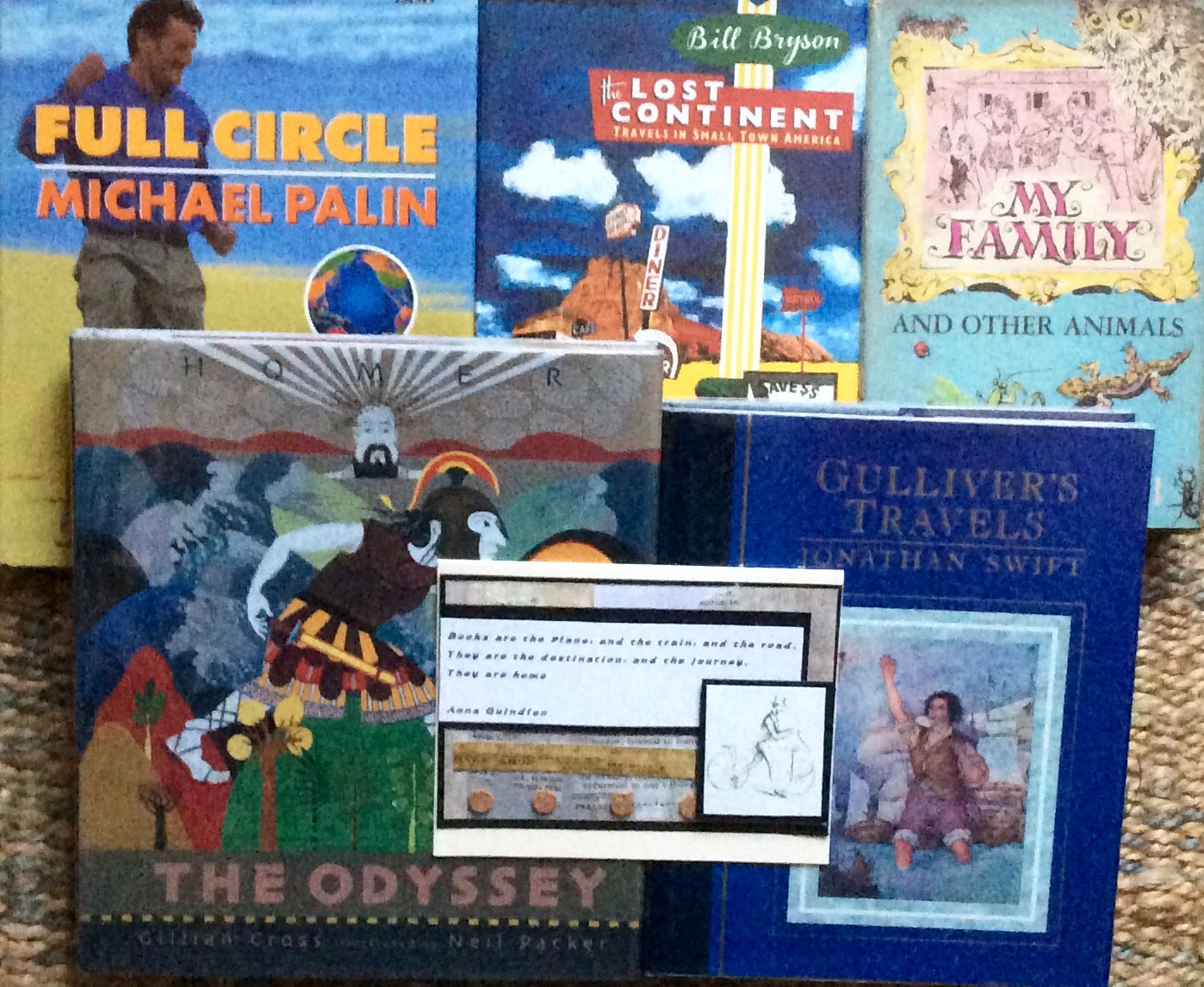 posted on 19 Feb 2017
Hospice Journeys
I always enjoy talking about books with patients and staff at St Richards Hospice in Worcester. This time I was asked to bring a selection along to share with the Thursday morning group ' Mens Space' using a broad theme of journeys and travel. I felt a bit overwhelmed with possible choices because, once I started to look at my book selection I was amazed at how much fiction for adults and children recount journeys. I mulled over Around the World in Eighty Days and Treasure Island and thought initially that perhaps I could organise the talk along the lines of water, land and air? After all there were plenty of examples of land travel like As I walked out one Midsummer Morning,  On the Road, and The Hobbit. But then struggled to find anything in my collection about air travel so that plan wasn't going to work!

Eventually I decided to use a well known poem as a way into the theme of ' exotic' journeys. I was hoping that like me, others would remember the thrill of reading Cargoes by John Masefield with its gorgeous language painting far-away alluring lands:
Quinquireme of Nineveh from distant Ophir,
Rowing home to haven in sunny Palestine,
With a cargo of ivory, 
And apes and peacocks,
Sandlewood, cedar wood, and sweet white wine.
I must admit that I was just a tiny bit wary of talking to an exclusively male group as had never done this before, especially as I had been warned that they were very 'lively' with lots of 'characters'. In my experience as a teacher this is usually short hand for potential troublemakers. But I felt at home straight away with this very friendly and interesting group of middle aged and elderly men. And with the gradual arrival of eighteen of them plus staff and volunteers, the room was soon packed as they enjoyed an initial half an hour of noisy banter fuelled with plenty of coffee and huge cakes. 
Before sharing my books we talked about ones that they had brought along and these included a handwritten photographic holiday journal, and Wind in the Willows . There were quite a few action war and thriller fans and we talked about how such stories can  provide a frisson of terror when reading them in a safe place.  I read Cargoes aloud which was fondly remembered by many of them. I had decided that I should include a photography book although this had presented me with another dilemma. How on earth was I going to choose one from amongst some pretty weighty tomes, because I certainly wouldn't be able to carry more than one. I settled on In the Shadow of Mountains by Steve McCurry which is a marvellous selection of photos of ordinary people and beautiful landscapes in Afghanistan, a country which is almost entirely depicted in the media as problematic and war torn. No one in the group had travelled there but as the book was passed around, we had some fascinating discussion about memories of travelling and spending time in many other countries. 
My second theme was 'Funny' and included the very popular books by Bill Bryson. My personal favourite is Lost Continent which relates his travels across mid western America, including the region where he spent his childhood. I wanted to read an extract from one of the many laugh out loud episodes when he went along to an eat as much as you like feast and ended up with food ' leaking from his ears'. Quite a few of the group shared my enthusiasm for this writer and so we whiled away more time talking about why they liked his other books. 
I had worried that I would  not have enough to talk about but after an hour and a half I realised that I had run out of time. So after passing round the much admired version of Gulliver's Travels illustrated by Chris Riddell and the equally magnificent pop -up version of The Odessey by Sam Ita, we finished with the wise words of Dr Seuss:
The more that you read, the more things you will know
The more that you learn, the more places you will go
I had such a good time that I am going back for more next month , this time to talk all about comics - I need to get organised.
Karen Argent
February 2017