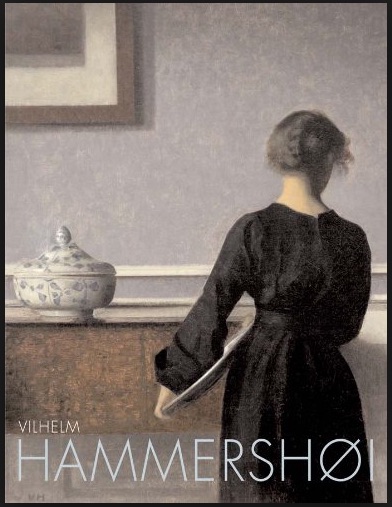 posted on 28 Oct 2016
Hammershøi
It is interesting to consider the way that painters – and I suppose other visual artists – are periodically rediscovered, their works reaching a new audience whose tastes, interests, attitudes or fashions suddenly seem to coincide with what an artist appears to represent. I suspect that the work of the Danish painter Vilhelm Hammershøi offers such an example.
When the Royal Academy of Arts held the first major UK retrospective of the artist in some years in 2008 – and published this beautiful accompanying book – it seemed that Hammershøi's time had arrived. His chilly, austere interiors – a muted palette of greys and slate-blues and dusty greens – in many of which a lone figure, typically a woman, stands motionlessly with her back to the viewer, seemed so perfectly attuned to a modernist aesthetic of high design and minimalism that they might have come from the pages of World of Interiors magazine.
But this is misleading and is only part of the story.
Hammershøi, whom some have called the poet of silence, was born in Copenhagen in 1864 and died from throat cancer in 1916 aged just 51. He was working at the same time as Picasso, Duchamp and Matisse and despite appearances – almost all of his pictures look significantly older than they actually are – he was a modernist, linked at times with cultural movements as diverse as the anguished expressionism of the Vienna Secession, Symbolism (both in the visual arts and literature), and even the Decadents. One friend thought him a Nordic counterpart to Huysmans' Des Esseintes, the anti-hero of Against Nature. 
And yet this quiet, introverted man created a style and a visual language that seems to predate these movements by almost two hundred years. His immediate models were the artists of the great school of Dutch interior painting of the seventeenth century, but Hammershøi was – however lovingly – subverting the genre. The opulent colours of Vermeer are gone, replaced by an almost monochrome palette. There is a profound sense not just of silence but of isolation, disconnectedness, melancholy. A handful of exquisite objects – furniture, a punchbowl, a piece of pewter – recur over and over again, and have a charged, fetishised existence that is hard to fathom. While Hammershøi's interiors appear to depict an observable exterior world, they are in fact metaphysical spaces, interiors as a state of mind. Truly interior, it might be said.
Some of the paintings also mimic a radical cropping or distorted perspective more associated with modern photography than painting. It may have been this that appealed so strongly to a reviewer for Amateur Photographer magazine, writing in 1907. "We do not often take the liberty of pressing upon our readers their duty in the matter of studying the works of painters," this reviewer said, "but we do press upon our readers to see Hammershøi's pictures…they send one away with a keen desire to improve one's work."
Indeed, the more one looks at these curiously still, hermetic paintings, the deeper and stranger they become. Hammershøi's friend, the art critic Emil Hannover, said they were "a silent protest against all the gaudy and gaping tastelessness of our time," and perhaps this was true. That Hammershøi's reputation should now have risen again as a part of the tastefulness of our own is ironic. And it is for this reason that Hammershøi, as well as being a joy to look at and to handle, is also an important book: it helps us plumb the depths of the painter's work and understand his fuller purpose.
The plates are beautifully printed on almost matte paper, which very much suits them, and leafing quietly and slowly back and forth – comparing paintings, tracing the appearance of treasured objects and the growing sophistication of technique – seems precisely how these enigmatic masterpieces should be viewed. If you want a gorgeously melancholy autumn treat, try Hammershøi.
Alun Severn
October 2016
[  Details of the book:
Authors :   Felix Krämer & Naoki Sato
Hardcover: 176 pages
Publisher: Royal Academy of Arts, London; 01 edition (14 July 2008)
Language: English
ISBN-10: 190571128X
ISBN-13: 978-1905711284 ]