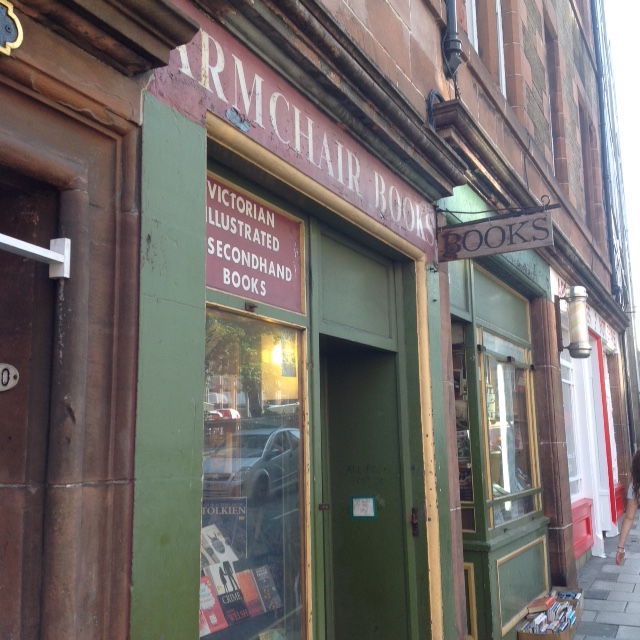 posted on 26 Aug 2016
Armchair Books, Edinburgh
This is probably our favourite Edinburgh bookshop because it's constantly a delightful surprise. Based in the traditional bookshop area of West Port, just off Grassmarket and with the castle almost in view, Armchair is a Tardis of a shop. From the outside it looks interesting enough but when you go inside you'll find yourself weaving through a shop that seems to just go on and on. As you enter there are books all around you on shelving that goes from floor to ceiling and which lead you on a fantastic exploration that seems at first to wind around into a second room but then you find yourself in a complicated maze of quite narrow book-lined corridors that seem to never end.
The shop mixes hardback and paperback, reading copies and collectibles, modern and antiquarian - I think that if you've got the time and patience you're bound to find something that will be of interest. There is an extensive modern fiction section that has its first editions and more collectible copies on a top shelf - this is possibly my one gripe: it's really quite difficult to look at these. A ladder is needed and the space to use it to do any casual browsing is very difficult, especially as the shop is clearly popular and there were plenty of people coming and going in the narrow corridors. The children's section is not as strong as the modern fiction  but there were good illustrated editions of older classics that would always be worth checking out.
The prices are not bargain basement but they aren't silly either - they strike a happy, sensible medium price that wont scare the horses. I was happy to pay up for the couple of books I bought and went away feeling I'd had something more than a book buying outing - more a book buying experience. I would always make this a 'must visit'  destination on any trip to Edinburgh.
Terry Potter
August 2016