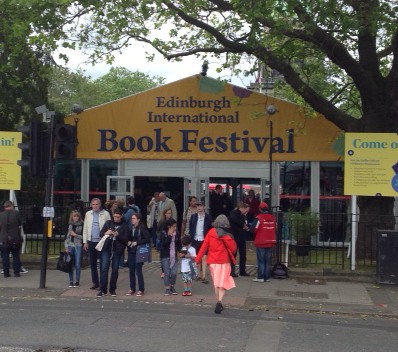 posted on 22 Aug 2016
Edinburgh International Book Festival 2016
This year we paid our first visit to the Edinburgh International Book Festival ( 13th -29th August 2016 ). The book festival coincides with the wider Edinburgh arts festival and, of course, the famous Edinburgh Fringe and I wondered whether this was inspired scheduling or whether the book festival would lose its identity in the mass of other events.
We were there for the opening day and I have to say that any worries I had were completely unfounded. The book festival has its own unique location – Charlotte Square Gardens – and is self contained within this beautiful leafy setting. Central Edinburgh is a lovely place at any time but with the sun shining and the trees in full leaf, Charlotte Square was in splendid shape.
We are veterans of book festivals like Hay and Cheltenham that have gradually grown in size over the years, bursting their original bounds and occupying more and more space around their respective towns. This year's Hay festival actually had a rather industrial feel about it – the numbers of people, the logistics of looking after mass crowds and the astonishing number of events made the event seem a touch impersonal. I like to go to book festivals to enjoy myself, not to endure them. So, I was delighted to find that despite its reputation Edinburgh's book festival is a whole lot more friendly and 'domestic' in size. The square it occupies provides a natural grass square that is kept free for people to sit and take refreshments and just enjoy the ambience of the day. The event tents are not enormous but a decent size – the tickets are not numbered and so getting to readings/interviews early helps you nab a good seat – and there are a couple of refreshment franchises. But, by comparison with Hay or Cheltenham, this is a charming and relatively small-scale experience and although it was clearly popular it never felt over-run.
There was plenty of signage and the system they have adopted for the post-event book signing is excellent – they designate a signing tent separate from the bookselling tent where most other festivals conduct the signing sessions. This meant there was plenty of space and no-one was inconvenienced by the snaking lines of people waiting for signings while they are trying to buy books in the same place.
My only gripe is that there weren't enough big name literary figures on the agenda and I especially missed some high profile American names that are hard to see in the general round of events in the UK. There also seemed to be a lot of programme cancellations and programme amendments which would have been very irritating if you'd made the journey especially for something that got canned at the last minute.
However, all in all, this was a great experience and one I'd certainly be happy to repeat and to visit Edinburgh in the summer with all the buzz and hum of the festival is an added extra.
Terry Potter
August 2016