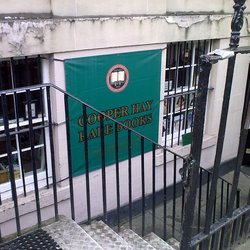 posted on 21 Aug 2016
Cooper Hay Rare Books, Glasgow
With the exception of a smallish Oxfam bookshop, Cooper Hay Rare Books in Bath Street would seem to be the only secondhand bookstore in Glasgow's city centre. I suspect that this might reflect the dreadful levels of rent for retail premises in our major cities and this issue of cost may also be the reason for the tiny size of this shop. Situated in the basement of a larger Georgian/ early Victorian terrace, the shop is accessed off the pavement by steps down which are a potential issue for anyone with mobility problems.
Inside the shop has an air of exclusivity that befits the antiquarian stock where fine bindings predominate. Often shops that describe themselves as rare or antiquarian are really much more generalist than you might expect - not so in this case. The floor space is really only one smallish room with glass-doored cabinets containing what were, for me, not a terribly interesting collection of older and leather bound books. The prices tend to match the stock - anything I found even marginally interesting was top retail price as far as I could see. 
We didn't stay very long because this wasn't really our sort of shop but I can see how there could be some fascinating stuff here for the right kind of collector - but you really do have to be a rare and antiquarian specialist to get the best out of this shop.
Terry Potter
August 2016