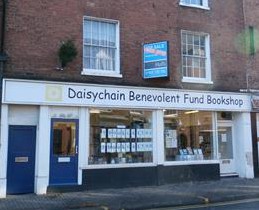 posted on 09 Aug 2016
Daisychain Benevolent Fund Bookshop
There's not too many places that book hunters can go in Worcester and so we have to make do with the charity bookshops that help to fill some of the gap. I think that, given the constraints they face, they do the best that could be expected. To have a Daisychain Benevolent Fund bookshop based in the St.John area of Worcester makes a lot of sense - it's close enough to the Worcester University campus - and so I try and swing by there reasonably frequently to check out what they have on the shelves.
The shop is light and bright and well organised and they have the sort of stock you'd expect - with a whole room given over to modern hardback and paperback fiction. There's also a decent children's stand in the middle of that fiction room and the science fiction is also kept apart in an alcove. The shop does have some collectibles - although when I was just there you'd be hard pushed to find anything in that section that is genuinely collectible. As with so many of the charity bookshops they seem to confuse old with collectible.
I'm not sure that I'd advocate that you should make a specific trip to pay the shop a visit unless you just want some decently priced reading copies of mostly modern(ish) releases but I would hope that if you're in the area you can find the time to drop in - although I should warn you that parking isn't as easy as it might be.
Terry Potter
August 2016