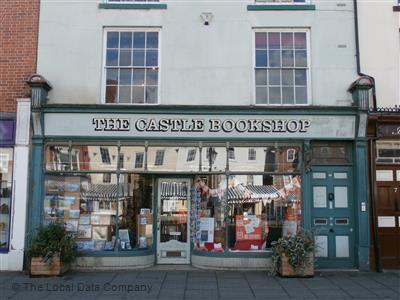 posted on 01 Aug 2016
The Castle Bookshop, Ludlow, Shropshire
The delightful Shropshire market town of Ludlow has a castle and a food festival but, disappointingly, it doesn't have any second hand bookshops. That hadn't used to be the case and I've no idea why no-one has been able to sustain something in what is evidently a fairly affluent tourist town but now there are only a few charity shops, including a specialist Oxfam shop, to fill the gap.
However, there is an independent bookshop, The Castle Bookshop, located in a fantastic position in the market square adjacent to the castle entrance. The shop has a superb frontage and when we spotted it we dashed across to have a look full of anticipation. However, I hate to have to report that inside it was something of a disappointment.
The owners have taken the decision to use the space to stock art materials, stationery and greeting cards and, as a result, the space given over to books is significantly reduced and I personally found the selection on the shelves to be rather unadventurous. In a lot of independent shops there's a feeling of bounty – limited space results in inventive ways of displaying the stock and they make a virtue of the range of books they carry. This shop felt exactly the opposite – there seemed to be plenty of unused space and, as a result, it felt sparse and in need of some inspiration.
I certainly wouldn't want to be overly critical – the owners know their shop and they know their customers and I expect its current configuration reflects this. I'm certainly delighted that it's there and that its continued to survive when plenty of others have found the business environment too challenging but I also like my independents to have character and atmosphere and, for me, it was lacking in this case. Bookshops like this in the locations they are can be an integral part of a community – and this may well be true for The Castle Bookshop but I just didn't feel it.
Having said that, it's clearly a must visit if you're taking a trip to Ludlow – it is important to support our independents regardless of whether they quite push your buttons or not.
Terry Potter
August 2016