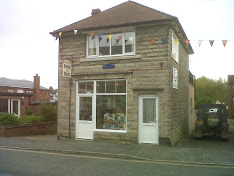 posted on 01 Aug 2016
Burway Books, Church Stretton, Shropshire
Church Stretton is a charming little town that sits in the shadow of the Long Mynd hills and has a thriving little community with plenty of tourists and more serious walkers passing through or staying for a few days. Burway Books has been part of this community for almost 50 years and moved half a dozen years ago from its original location in Beaumont Road to its current place of business just a few doors down.
The current shop is more spacious than the original but it's still quite cosy – all the books are accessible but there's a pleasing sense of titles fighting for attention and a feeling that you might stumble over something unusual.
All the usual categories are here – the fiction is largely paperback as you might expect but the hardback new releases have a prominent enough position and visible as you enter the shop. There is a very well selected and interesting children's book section at the back of the shop and I was delighted to discover that they had a shelf set aside for limited editions and collectibles. To be fair, these were quite hard to spot and if I was shorter than my 6' 3" I might not have bothered to reach them down from the high corner shelf they occupied. Maybe it would be wise to give these expensive but hugely collectible specials a bit more prominence?
We were the only customers in the shop at the time we were there but we were given a warm welcome without feeling that we were being hurried or unduly scrutinised and when we paid for our captures we had time for a pleasant chat about books and grandchildren with the person who served us.
I don't really understand how shops like this survive in places like Church Stretton and I can't imagine it's the way to make a fortune. You have to assume that keeping shops like this going is more a vocation than a business decision and so they deserve all our admiration for what they are doing to help keep books in the community.
Terry Potter
August 2016