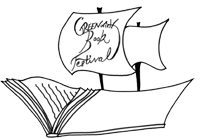 posted on 27 Apr 2016
Greenwich Book Festival 2016 Line-Up Confirmed
Now in its second year, Greenwich Book Festival is hosted by the University of Greenwich in the historic buildings and grounds of the Old Royal Naval College, on the banks of the River Thames.
The festival is supported by Royal Borough of Greenwich under their Royal Greenwich Festivals banner.
Intimate in scale, grand in setting, the Festival takes place in four venues in and around the Queen Anne Courtyard.
The programme runs over two days, beginning on Friday with a schedule of events for local schoolchildren before opening to the public in the afternoon and for Saturday.
You can find details of the Greenwich Book Festival programme her on this link to the Greenwich Book Festival website