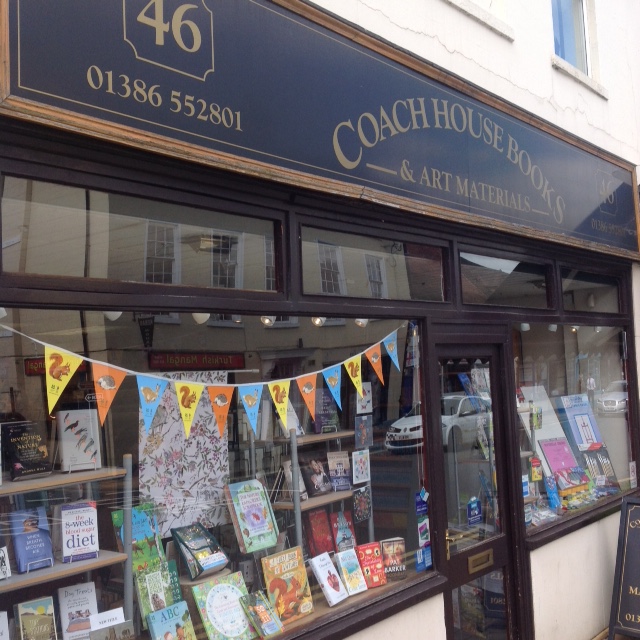 posted on 20 Apr 2016
Coach House Books and Artist Materials, Pershore
This is a small(ish) independent bookshop that splits its stock between new release books, greeting cards and art materials. In many ways it is an architypal small town independent - part of the community and with a pretty clear idea of what it's trying to do. You can expect shops like this to stay within fairly predictable parameters in terms of the stock it puts on its limited shelf space but one of the glorious things about independents is that they always have space for some left-field choices - and this makes a visit always worthwhile.
Free standing shelf units do tend to make the browsing space a little limited for someone of my size but the clear labelling helps and there are plenty of front-forward displays to showcase books to their best effect. The shop is generally light and brightly decorated and so it's a pleasure to spend time casually browsing without being hassled for a sale. The owners seem to be always busy but attentive when needed and this gives the shop a general sense of good energy.
However, for me the crowning glory of this shop is its really excellent children's books section. The space given to children's stock is pretty generous in proportion to the floor space available for more general fiction and other adult interests and I get the impression that whoever is buying in the stock for this section really loves - and knows something about - good quality children's books. It is on these shelves in particular that you'll find some of the most interesting titles - a good number of which you'll struggle to locate in any Waterstones.
Although I'm usually on the hunt for second hand bookshops, stumbling over little treasures like this shop is always an added bonus. In my opinion every small town should have its own independent bookshop - even if it has to multi-purpose like this one does. When I was there - and this has been true of every visit I've made - I was never the only customer in the shop and people were always popping in and out. I have to say I was also very impressed with the excellent service they gave to a disabled customer who couldn't actually get their wheelchair into the shop - their response was courteous and attentive without being over the top. Other shops take note!
Terry Potter
April 2016