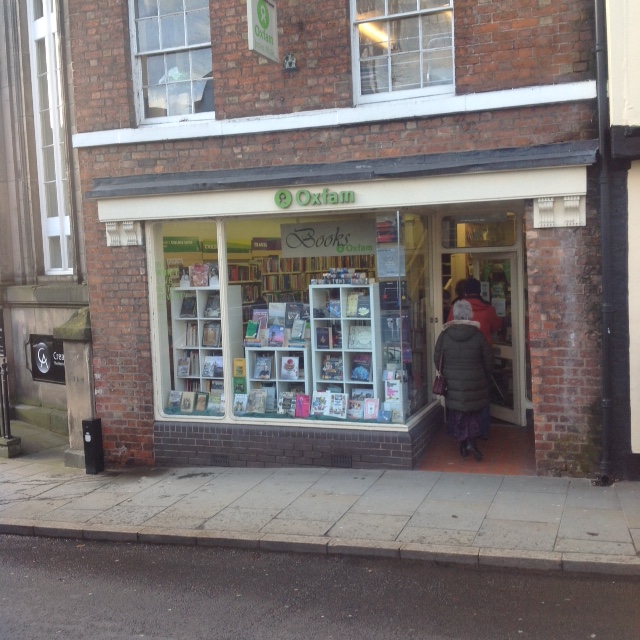 posted on 25 Feb 2016
The Oxfam Bookshop, Shrewsbury
A fairly run-of-the-mill Oxfam bookshop at 10 Dogpole in the heart of Shrewsbury town. I like this place primarily because I have some happy memories of finding a couple of real gems here in the past. I've been a little less impressed with it on the past couple of visits and I get the impression that in general there is less interesting stock finding its way onto the shop floor - whether that is because donations haven't been forthcoming or the collectibles have been skimmed off for sale on the internet.
This isn't the biggest of Oxfam's shops and it can give the impression of being a bit cramped and difficult to move around easily. It's organised over two floors - as you enter the shop there is often a table in the middle of the floor usually with some kind of sale or promotion going on. You then go up two or three steps to a second floor where the till is located. Opposite the till are the shelves of collectible, old and interesting stock which are in my view overpriced for the condition many of them are in. Overpricing so called 'collectibles' is, I fear, becoming a hallmark of the Oxfam chain. I think this is down to the influence of websites like Abebooks which are used crudely as a price comparison or price benchmarking site when in reality fairly pricing books is a much more sophisticated process if its going to be done well.
Up on this floor is also modern and classic fiction and there has certainly been a drift towards paperback stock since I last visted here almost 12 months ago. This last visit was the first time I've left with nothing but that isn't a fair representation of the stock as a whole - which is pretty good in terms of basic reading copies.
I can't imagine a visit to Shrewsbury without paying this shop a visit. As with all charity shops, donations will obvious fluctuate in quality and quantity so popping in while you're in the town must be worth a shot.
(One other issue - on the day we were in the service was pretty poor. I have no problem with people if they want to be grumpy - just go somewhere else to do it.)
Terry Potter
February 2016