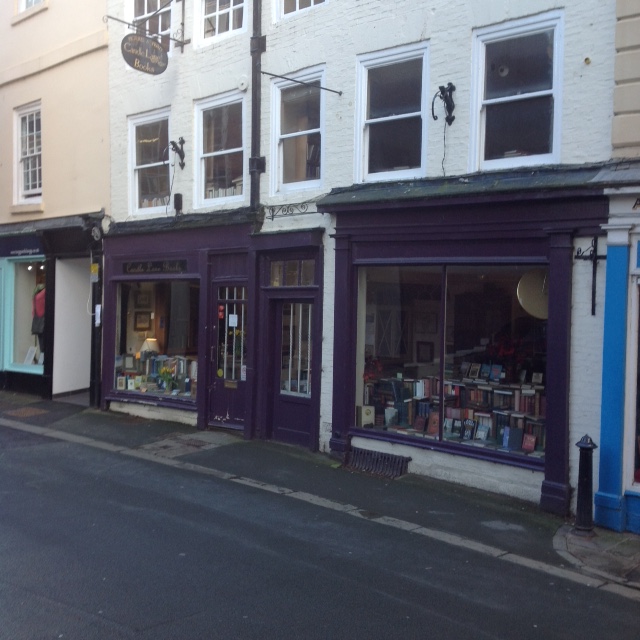 posted on 02 Feb 2016
Candle Lane Books, Shrewsbury
Situated in a characterful, historic building very close to the Old Market Hall, Candle Lane Books is a double-fronted very traditional second hand bookshop. You'll find lots of old wood on the floors and shelves, narrow stairways winding up three storeys and plenty of creaking old floorboards. Thankfully none of the rooms have low ceilings which is great for me - I don't have to duck and dive and there is actually quite a lot of natural light for such an old building.
When it comes to the books I'm afraid the stock doesn't quite live up to the setting. On the ground floor at the back there are lots of old children's books but not many of them are really of too much interest. However, if you do love Edwardian books for boys and girls and you want them with jackets too then the chances are you might find something.
Up on the first floor is the fiction and although there's a whole room given over to this - old and new - try as I might I just couldn't find anything I wanted to buy. The stock is, I think, likely to be of interest to people who are either starting out on their book collecting journey or want something that's a bit obscure but for collectors of mainstream literary greats, it might be hard to find too much.
Up again on the perilous staircase there's a bit of a miscellany. More fiction (why?) and some bigger children's illustrated and annuals. There are also quite a lot of vintage boys and girls annuals which are generally in fairly decent condition but which have a limited audience I suspect.
Collectibles in the areas I'm interested in seem very thin on the ground. On the ground floor there is a glass cupboard with some larger illustrated books on show which I thought might have some of the choicer items - but no. Again, quite a mundane selection I'm afraid.
I really want to like this shop and I really don't want it to disappear. I hope they do well enough to continue but if they do it must be by selling stock in areas of interest other than mine. Fingers crossed they will survive and flourish but if they do I also hope they'll clear out some of the dead-weight and spice the shelves up a bit with new, desirable stuff.
Terry Potter
February 2016