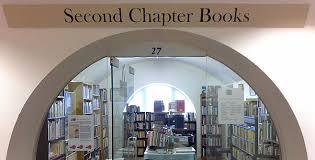 posted on 31 Jan 2016
Second Chapter Books, Shrewsbury
Second Chapter Books is located on the lower ground floor of the the St. Mary's Parade Shopping Centre - a large imposing old building that has been converted from whatever its former role had been - probably something municipal. Whatever it's past incarnation, it now houses a range of retail units and when we arrived there at about 10.30am on Saturday morning it wasn't exactly humming with people.
Second Chapter occupies one smallish unit but is bright and tidy and has plenty of space to browse. I'm always happy to see a shop that is well cared for and where the owner has clearly taken some pains to make sure the shelves aren't stuffed with tat. Although the shop isn't big there's plenty of stock here without the need to resort to piles of stuff on the floor which is the mistake so many smaller shops make.
I personally found the stock a bit ordinary - but that's looking at it with the eye of someone who is always on the lookout for the rare and the unusual in terms of novels, literature and children's books. The owner clearly likes his Tolkein and there is space dedicated to all things Hobbit or Lord of the Rings but the real specialism is science fiction - a whole section is dedicated to this. You'll find lots of the Science Fiction Book Club titles that reprinted the big name classics of the 50s, 60s and 70s and plenty of the yellow jacketed Gollancz science fiction editions that are becoming increasingly difficult to find. But again, I didn't see any real big names here - so go prepared to stock up on reading copies if this genre is your cup of tea.
I worry for all shops in retail centres like this - in my personal experience they never seem to survive long. For some reason, the footfall in these places just doesn't add up to a viable customer base and I've no idea why this is the case. Get along to Second Chapter Books if you can because we need these shops to survive and succeed.
Terry Potter
January 2016
(photo: paradeshops.co.uk )