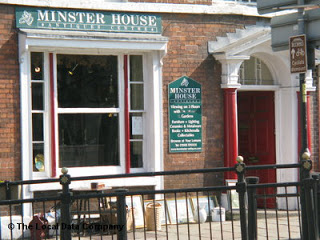 posted on 24 Jan 2016
Matthew Nutt Books in Minster House Antiques, Leominster
Minster House Antiques is quite a big, three or four floor antique centre that has lots of individual dealers operating from separate units within it. Matthew Nutt Books occupies a room towards the back of the ground floor ( and I think they may also have a conservatory room at the back of the building which is filled with books that really have no collectible value and which are being shifted on relatively cheaply). The stock in the main room consists of books and prints with an emphasis on old or antiquarian or unusual. 
There is an interesting art section that often has some unexpected titles - not necessarily to everyones taste but if you're open to the neglected or quirky I think you might find something you'd want at  prices which aren't at all expensive for that kind of thing. There's quite a lot of old and unusual children's and illustrated books - many of them Victorian. Sadly, they are not always in the best condition and quite a lot of them have cracked hinges or, in the case of the children's books, they have had an enthusiastic child colouring-in the illustrations for themselves. I think many of these are over-priced but it's certainly worth going through them carefully because there is every chance you'll turn up a gem.
The rest of the stock deals in subjects that don't really interest me - some topography, local history, theology etc. There is no modern fiction or literature here -  so if that's your sort of thing you will be disappointed. It must be hard to keep a big place like this antique centre properly heated in the winter and when we went it was quite a cold, damp day and you could feel it in the air - and in the books - which is a shame. I would imagine it's a much better shopping experience in the summer when it's warm and dry.
Terry Potter
January 2016
(photo: http://www.citikey.co.uk/display/minster-house-HK8FV)