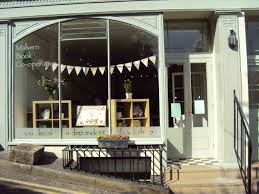 posted on 22 Jan 2016
The Malvern Book Co-operative
When Beacon Books closed early in 2012, Malvern lost it's only independent shop selling new books.  At the time this seemed like simply another manifestation of the inevitable march of progress – there would come a time, the narrative had it, when all books would be sold on line and old fashioned things like bookshops would become a thing of the past.
However, rather than just shrugging their shoulders and moaning, an enterprising group of local residents decided that they wouldn't take this loss lying down and began the process of planning a replacement. They chose to go down the community ownership route rather than simply try and replicate the small business model and here we are some three years on and the bookshop has not only survived but has made itself part and parcel of the town's life and identity.
Situated just off the Worcester Road in St. Anne's Road, the shop is almost literally a stone's throw from The Malvern Amnesty Bookshop and a couple of minutes walk to The Malvern Bookshop that sells second hand books. The shop isn't big but they seem to have crammed a lot in – even a small coffee and cake section right at the front in the big picture window.
The children's book section is at the back of the shop and is, in my opinion, just about the strongest in terms of the stock inventory. They have a mix of hard and paperback new releases and a few of the classics but the area can also be used for book reading events and the like – which adds another string to the shop's bow.
Fiction is in the separate annex of the shop which is to the right as you go in. Most of the stock here is paperback, popular fiction that will turn over reasonably quickly but which for book collectors has nothing there to really grab the attention.
What's particularly nice about this shop is it's gentle atmosphere. Here's a bookshop you could go into and spend as much time as you please – I can easily imagine a lazy Spring morning browsing the books , drinking tea and scoffing cake. But for all these little independents financial life is tough and I would guess making ends meet is always touch and go – so it's even more to the credit of the community share holders that they are prepared to give it a go just because having a bookshop is important and not because it's going to make someone rich.
Try and support them by paying a visit – even if it's only the thought of the cake that gets you there!
Terry Potter
January 2016
(The photgraph comes from the bookshops website which can be accessed on this link)